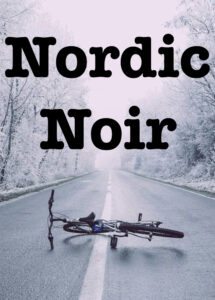 Perhaps nowhere in the world is the noir genre more fitting than in the nordic countries where December nights can last 17 to 19 hours.
A perfect invitation to muse about what's dark in the hearts of humans and their communities.
Noir literature can take root in just about any setting from the brilliant sunshine of Los Angeles to the dank fog of Glasgow.
Nordic noir refers to crime novels that take place in and are written by writers from Denmark, Norway, Sweden, Finland, Iceland and associated territories such as Svalbard, Greenland and the Faroe and Åland islands).
Swedish authors Maj Sjöwall (1935 – ) and Per Wahlöö (1926 – 1975) were among the first Nordic authors to write novels that fall into the noir genre. They hit a number of essential noir elements when they introduced Martin Beck, a homicide detective with the Swedish national police, in 1965.
At the time, the police procedural was almost unknown in Sweden. They presented police work in a realistic, unglamorous way; a team effort rather than the work of a single hero. They used the crime story to present the crumbling of Sweden's corrupted welfare state into cold-hearted capitalism where the rich get richer and the poor get poorer.
Henning Mankell's disillusioned and alienated Inspector Kurt Wallender, introduced in 1991, is another stand-out in this field.
Most nordic noir novels tend to be:
Straightforwardly, unadorned and realistically written;
Police or investigative procedural stories with a protagonist who is a policeman or a private investigator;
Stories with moral complexities that juxtapose calm, bland work-a-day world lives with raging conflicts beneath the surface — racism, wartime history, murder, misogyny, rape and the haves versus the have-nots;
Told with multiple storylines;
Presented with a sense of place, in which weather is often highlighted.
Here are some Nordic Noir authors whose works have been translated into English:
Icelandic
Arnauldur Indriðason. VOICES (2008). Just as the Christmas tourist season is gearing up, A Reykjavik hotel employee discover's the hotel's Santa Claus, dead with his pants around his ankles. The curmudgeonly Detective Erlander is called in to find out who and why "Santa," a well-known boy soprano in his youth was killed.
Ragnar Jónasson, THE DARKNESS (2018). Reykjavik detective Hulda Hermannsdóttir, 64, is facing retirement at the end of the year with a feeling a bleakness. When her boss tells her they want her to leave earlier so her younger male replacement can have her office, she negotiates an opportunity to work on one last cold case.
Yrsa Sigurðardóttir, I REMEMBER YOU: A GHOST STORY (2014). Three friends are dropped off at a long abandoned village to begin renovating an old house to become a summer guest house. They soon find themselves deep in a vengeful horror story rooted in the 1940s.
Danish
Jussi Adler-Olsen, THE KEEPER OF LOST CAUSES (2011).
Leif Davidsen, THE SERBIAN DANE (2007).
Peter Høeg, SMILLA'S SENSE OF SNOW (2010).
Norwegian
Alex Dahl, THE HEART KEEPER (2019).
Kjell Ola Dahl, THE ICE SWIMMER (2018). Olso detective Lena Stiersand and her colleague Gunnarstranda find themselves investigating a series of murders that  are much more complicated than they seem at first.
Karin Fossum, EVA'S EYE (2013), first book in the Inspector Sejer mystery series.
Anne Holt, A GRAVE FOR TWO (2019) and BLIND GODDESS (2012), first book in the Hanne Wilhelmsen series.
Jørn Lier Horst, THE HUNTING DOGS (2014). A police detective father and his investigative reporter daughter are looking into two murders separated in time that intersect in a most suspenseful way.
Hans Olav Lahlum, THE HUMAN FLIES (2014), first in the K2 and Patricia series.
Jo Nesbø, THE REDBREAST: A HARRY HOLE NOVEL (2012). Inspector Harry Hole, promoted into a deadend job after a diplomatically embarrassing accidental shooting, finds himself unable to let go of a mystifying cold case in which shells from an exceedingly rare gun typically used by assassins are found in an out-of-the-way Norwegian town.
Pernille Rygg, THE BUTTERFLY EFFECT (1998). Clinical psychologist Igi Heitmann is researching whether chaos theory can be applied to human behavior. But when her father is killed in a hit-and-run accident, she finds herself taking a break from her own life to see what her private investigator father was looking into before he died.
Gunnar Staalesen, BIG SISTER (2018). When an older woman comes to private investigator Varg Veum to get help finding her missing goddaughter Emma Hagland, 19, she gives Veum an unexpected surprise: she (Norma Bakkevik) is his half-sister. But within a week of telling Veum this, Norma is dead.
Thomas Enger, BURNED (2011), first in the Henning Juul series.
Swedish
Malin Persson Giolito, QUICKSAND (2017). She is the daughter of Swedish crime writer Leif G. W. Persson. After a high school shooting involving the son (Sebastian) of one of Sweden's wealthiest men and a star student (Maja) that leaves a teacher and three students dead, Maja's guilt seems obvious. Police found her holding a gun and she admits Sebastian in self-defense and killing her best friend accidentally. But in Giolito's skillful hands, this story weaves backwards and forwards in time and guilt and innocence become slippery fish, indeed.
Stieg Larsson, THE GIRL WITH THE DRAGON TATTOO (2008).
Henning Mankell, FACELESS KILLERS (1997), first of the Kurt Wallander books.
Liza Marklund, RED WOLF (2011), first in the Annika Bengtzon series.
Leif G. W. Persson, THE DYING DETECTIVE (2017), which won the 2017 Crime Writers' Association's International Dagger, the 2012 Danish Academy of Crime Writers' Palle RosenKrantz Prize for Best Crime Novel of 2012; the Finnish Academy of Crime Writers' Award for Best Crime Novel of 2012; the Swedish Academy of Crime Writers' Award for Best Crime Novel of 2010; and The Glass Key (Best Scandinavian Crime Novel 2011).
Maj Sjöwall and Per Wahlöö. Their Martin Beck series opens with ROSEANNA (1965). This is the book that launched Nordic Noir. Detective Martin Beck is called him by police colleagues when a dredge, trying to clear a lock on a lack, pulls up the naked body of a murdered woman. Without clues, witnesses, missing persons reports — or modern computers, email and databases — Beck painstakingly builds his case and against the odds brings the murderer to justice.
Helene Tursten, HUNTING GAME (2019) first book in the Embla Nyström series.
Faroese