by Ragnar Jónasson; reviewed by Jeannette Hartman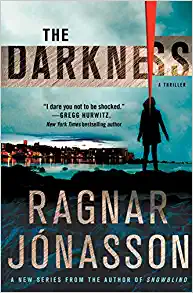 This book ends with the darkness of a grave — but the grave of the last person you would expect.
That is just one of many things that make this a stand-out mystery.
Reykjavik detective Hulda Hermannsdóttir, 64, is looking ahead — but not forward to — her retirement from the police force at the end of the year.
Work has been her focus and escape from the demons of her personal life. Her only bright spot is a new friend Pétur, a retired surgeon and widower whom she met at their walking club.
As one of the first women on the force, Hulda was always an outsider, never one of the guys. Some might call her a plodder, but she gets results.
It comes like a shovel of snow in the face when her boss informs her that he would like her to move up her departure date.  They've hired a promising young man and need her office and desk. Her work has already been reassigned to colleagues. He thinks she should be pleased to get an early start on her retirement hobbies. She begs for more time. He agrees to let her pick a cold case and work on it.
She doesn't need to think long. Nearly a year earlier, a Russian asylum-seeker named Elena was found drowned on a remote rocky beach by hikers. The investigating detective declared it a suicide, despite the fact that Elena had been granted asylum. Hulda discovers that a second girl had also gone missing around the same time, but her absence was never reported.
Then a series of stumbles threaten to put a dark shadow over Hulda's career.
Jónasson has woven suspense into this story at many levels: Elena's fate, the future of Hulda's relationship with Pétur, the haunting memories of Hulda's late husband and daughter and how she will manage her impeding retirement.
In Icelandic, the name "Hulda" means "hidden woman." Jónasson brings home with stunning clarity how little we know about even those we've known and worked with for years.
The other books in this trilogy are:
THE ISLAND, published in English in 2019. Set 25 years earlier than The Darkness, Hulda is at the peak of her career when she is sent to find out what happened when a group of friends visited the isolated island of 

Elliðaey — and one doesn't come back.

THE MIST (2020). This is the third and final book of Jónasson's series featuring Hulda. In 1987, a snowstorm should have isolated a farm house in the east of Iceland from unexpected guests — a killer to be specific — but it didn't. Hulda is left with an investigation that haunts her forever.
The Author: Ragnar Jónasson
Ragnar Jónasson is a best-selling Icelandic author of crime fiction.
He has two series of mysteries. The first, the Dark Iceland series, began with his debut novel,
Snowblind
. It is set in and around
Siglufjörður
, and featuring Detective Ari Thor. 
His Hidden Iceland series is a trilogy that begins with The Darkness.
He is a co-founder of the Reykjavik international crime writing festival, Iceland Noir. Starting from the age of 17, 
Jónasson translated 14 Agatha Christie novels into Icelandic. He has spoken at many crime fiction festivals, including Bouchercon and Left Coast Crime in the United States.
He has a law degree and works as an investment banker and teaches law at Rykjavik University.