By Rachel Howzell Hall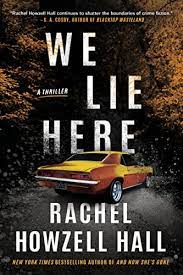 The ever-excellent Rachel Howzell Hall has done it again with her latest, WE LIE HERE,  a story of a family deeply tangled in lies, envy and greed while appearing to be caring and supportive of each other.
Set in Palmdale, the truth here is hidden in layers of dust, time, half-truths, deceptions and assumptions.
Yara Gibson spent 21 of her 24 years there and can't imagine why she'd ever go back, especially now that she's a writer for the hit television show "Tough Cookie."
Except she has — to do a gala extravaganza for her parents' 20th wedding anniversary. She and her sister Dominique are hosting the celebration their Mom and Dad couldn't afford back in 1999.
She and her sister are having a drink at the hotel where Yara plans to stay in Palmdale when they are approached by a woman they recognize as a distant cousin, Felicia Campbell. Thinking she's trying to wheedle an invitation to the gala, they put her off. She insists that she has to talk to Yara about something that will change her life.
Yara's mother, Barbara, scoffs, "This is what Felicia does. She cries wolf. She holds fire drills. Gets you worked up and freaked out."
Then Felicia turns up dead, drowned in a nearby lake, an apparent suicide. Would she claim to be dead for attention, Yara asks herself.
It's clear from the start that Barbara Gibson is a toxic mother. She favors Dominique over Yara and isn't above signing Yara's name on a loan application to send Dominique to college, even as Dominique's commitment to education wanes. To Barbara, the gala anniversary celebration isn't a gift, it's an entitlement.
The more Yara questions what Felicia wanted to tell her, the more tangled and untrue the stories her mother told her about her past seem. The toxic turns evermore lethal as the suspense rises in this irresistible book.
This is an entertaining mystery well-told. The Palmdale setting is perfect for the oppressive, stifling effects of decades-old secrets now about to crack open.
#RachelHowzellHall #Palmdale #JeannetteHartman
The Author: Rachel Howzell Hall
Rachel Howzell Hall is an L.A.-based mystery writer. She has written the Detective Lou Norton series, which includes: LAND OF SHADOWS, SKIES OF ASH, and TRAIL OF ECHOES.
Her stand-alone novels include THEY ALL FALL DOWN, AND NOW SHE'S GONE and THESE TOXIC THINGS.
#rachelhowzellhall  #weliehere