by Rachel Howzell Hall
Los Angeles Police Detective Elouise "Lou" Norton has turned to a new page in her life: she's divorced Greg, her philandering ex-husband; she's moved out of their lovely coastal condo and in with a friend; and now she's ready for a new life.
Like having a Normal People Lunch with deliciously handsome Assistant District Attorney Sam Seward.
But life isn't going to play it that way. Her lunch is interrupted by a call to the scene of a dead body, that of 13-year-old Chanita Lords, a talented middle school student with a love of photography who just happens to live in the apartment building where Lou grew up.
And if that isn't a big enough tie to the past, Lou realizes how much she had in common with Chanita — an absent father, and a mother who isn't around (Lou's was working; Chanita's was in jail for check kiting). Lou's father has made a repentant reappearance trying to connect with Lou and her mother — something Lou wants nothing to do with.
There are no shortage of suspects: the odd park ranger who found the body, Chanita's school counselor who gets a little too close and personal with his attractive female students; the registered pedophile who lives in Chanita's building.
Soon Lou and Colin realize there are other girls missing from the same middle school. Lou starts receiving postcards without postage stamps and notes in code. A statues of Melpomeme, the Greek muse of tragedy, is left on her car, and Lou realizes that each of the missing girl has the same talent as one of the nine Muses. How many more will died before Lou closes in on the killer?
I like Lou as a character: she's bright, has integrity and is direct and straightforward in her dealings with people. Author Rachel Howzell Hall does a good job of carrying the back story through the books of this series. Lou is growing as a character with each sequel. These books show a different side of the city than most mysteries set in L.A.
The books in the Det. Lou Norton mystery series in order are:
Trail of Echoes
City of Saviors
About the Author: Rachel Howzell Hall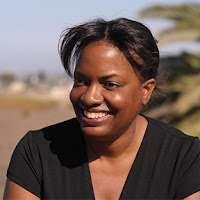 Rachel Howzell Hall has written seven novels, including the critically acclaimed Detective Elouise Norton series. The character of Elouise Norton was included in The Guardian's "Top 10 Female Detectives in Fiction."
Hall is a featured writer on NPR's "Crime in the City" series and the National Endowment for the Arts weekly podcast.  She has served as a mentor in AWP's Writer to Writer Program and is a Director-at-Large for the 
Mystery Writers of America
.
In addition to her Det. Elouise Norton series, Rachel Howzell Hall wrote the stand-alone novels A Quiet Storm, published in 2002, No One Knows You're Here (2014), The View from Here (2010) and They All Fall Down (2019).
She lives in Los Angeles with her husband and daughter.