Edited by Chad Hammett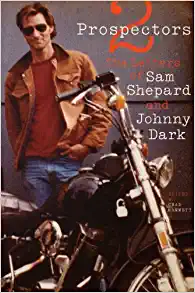 This is a well-edited collection of letters exchanged by Shepard and his friend Johnny Dark from the fall of 1972 to the spring of 2011, when Shepard walked away from a joint project of compiling the letters into a book.
Although it was a sad end to a long friendship, readers benefit from Hammett's ability to select letters that create an interesting narrative as the two men evolve from sharing houses and lives to separate paths to losses and aging.
Between the printed letters are wonderful photographs of Shepard, Dark and their families. Facsimiles of their written and typed letters and photographs give the reader a sense of intimacy and being part of the correspondence.
Dark and Shepard met in the early 1960s in New York and immediately hit it off. Dark invited Shepard to a spaghetti dinner at the apartment where he was living with a woman and her two daughters. Shepard eventually married one of the daughters and they had a son. The two couples moved to California around the time Shepard was hired as an actor in Terrence Malick's "Days of Heaven" (1978).
Shepard talks about what he's reading and writing; his life with Jessica Lange; their children; his father and other relatives; his insecurities and struggles with money and alcohol.
Dark, on one hand, seems to be an aimless drifter. He spent a lot of time in low-paying, undemanding jobs so he could take care of his wife, Scarlett, who first had a brain aneurysm and then a variety of health problems. Dark worked as a dog-catcher, cleaned houses, was a masseuse, and in his later years, worked at a Mexican deli in a grocery store in Deming, NM, where he and Scarlett settled eventually.
Dark was a natural archivist. So much so that his mother gave him a filing cabinet as a birthday present when he was in grade school. Over the course of his friendship with Shepard he took pictures and movies; tape-recorded conversations; kept journals and notes.  He was a great admirer of Jack Kerouac and a big doper.
The 2012 documentary "Shepard & Dark" was about their effort to collect the letters, sell them to Texas State University, San Marcos, home of the Wittliff Collection and then to compile them into a book. The documentary begins like a "band of brothers" road trip story with the two men pouring through boxes, sitting in diners reading snippets to each other, and singing lines from Dylan songs.
But as the film rolls on, it's increasingly clear that there are two very different men and a lot of time has passed since they spent much time together. Dark likes to hang out at home; Shepard is always on the move. Dark has a life of routine; Shepard does whatever he wants when he wants. Dark is eking out an existence financially; Shepard lives well with periods of being broke that he can usually fix by taking an acting, directing or writing job.
Ultimately, Shepard decides he has no interest in raking over the past. He boxes up all the materials he has and FedXes them to Dark's doorstep.
At that point, Hammett steps in. In the introduction he says he worked with both men. The book was published before Shepard died. There's no information about whether project killed the friendship, or if, as Shepard suggested in the documentary, it was resilient enough to come back
Many collections of letters can be dry and academic. Comprehensiveness overrides perspective. This book does a wonderful job of showing the evolution of the two men and their divergence over time. It gives insight into their creative processes. The selection of letters offers insight into Shepard's approach to writing and what influenced him as a playwright.