By Peter Ross; reviewed by Jeannette Hartman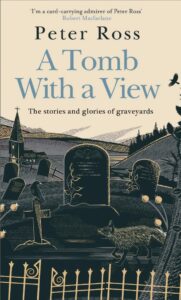 Journalist Peter Ross does more than list cemeteries and celebrity graves in this book; he celebrates lives.
He roves from London's famed Victorian cemeteries to isolated military graves in northern Scotland to the hidden cillín where unbaptized babies are laid to rest in Ireland.
He visits World War I battlefields being developed into roads or shopping malls and revealing the remains of some of the nearly 100,000 British and Commonwealth soldiers still missing.
Ross talks to people like Liz Webb and Shaun McHale, who got married on Halloween in Arnos Vale Cemetery in Bristol. Or Rupert and Claire Callender of the Green Funeral Co., who want to make funerals more personal and burials more ecological.
Psychic Adeana Calloway and her mother Jayne come to Greyfriars Kirkyard to see if the spirit of Greyfriars Bobbie, the little Skye terrier who guarded his owner's grave for 14 years before dying in 1872, is still present.
"If he is out here," Jayne tells Ross, "it's time for little Bobby to go to the light."
He listens to Bob Reinhardt, an American art teacher who for 20 years spent his school holidays exploring Edinburgh's historic burial grounds.
Reinhardt became attached to the ivy and old stone of Warriston Cemetery, a 14-acre site hidden from the street by a wall. Long full, it had become a dangerous place for drug deals and crime, "a lawless jungle, Edinburgh's id."
He found it so interesting, he has taken around 60,000 photographs so far. He has created a support organization that meets twice a week to pick up trash and prune bushes. It has become a place where people can safely walk and enjoy nature.
One of the most moving stories Ross tells is that of Shane MacThomáis, a guide at Dublin's Glasnevin Cemetery and the star of the documentary "One Million Dubliners" (2014), directed by Aoife Kelleher.
Suffering from depression, MacThomáis hung himself from a tree in Glasnevin. He was buried there with his father who had died 12 years earlier.
"It is a wonderful film with two stars, one of flesh and blood, the other of earth and stone: Shane and the cemetery itself. . . His love for Glasnevin and the force of his personality are such that you spend the first 80 minutes of the film falling for the guy. Then the kick in the guts: the slow coming into focus of his nameplate on the coffin. It is beautifully done. 'One Million Dubliners' does not explain how Shane died. There would have been no need for that. The point was that he had joined the multitude whom he once hymned, gone beneath the earth over which he had walked with such purpose and passion."
Ross also writes about London churchyards so overcrowded by the bodies of cholera victims that the bones shifted into the basements of nearby buildings. Some graves barely had dirt to cover the bodies. Rats, rain and on-going burials scattered bones far from corpses' original resting places. The stench was so bad that many believed it alone could kill people.
Because of this, cemeteries began to be built away from churches in park-like estates.  All of London's "Magnificent Seven" (Abney Park, Brompton, Highgate, Kensal Green, Nunhead, Tower Hamlets and West Norwood cemeteries) came into being with this trend.
Now many are full or nearly so. New interments are no longer allowed, leaving no income for cemetery maintenance and fewer visitors. These days, nearly 75 percent of those who die in the United Kingdom choose to be cremated. That leaves the future of cemeteries uncertain.
Some cemeteries have worked to become venues for special events such as weddings, receptions, movie screenings or parties.
Tombstone tourism is also a growing industry as well. Greyfriars Kirkyard is a favorite destination. First, because of the story of the loyal Cairn terrier, Greyfriars Bobby. But author J. K. Rowling drafted parts of her Harry Potter novels in the Elephant House cafe, which overlooks the cemetery in the back.
She found inspiration here for Godric's Hollow where Harry's parents were buried. Tombstones suggested character names such as Thomas Riddell (the boy who became Voldemort), a Moodie (Alastor Moody), Scrymgeour (Rufus Scrimgeour), Cruikshanks (spelled differently and not feline) and a William McGonagall.
"This book, like the best sort of funeral, will be a celebration, not a lament. it will uncover the stories and glories of the best graveyards, from grand cities cemeteries to couthy country churchyards. I love all these places. I love the bones of them. I want to make you love them too," Ross writes.
He succeeds brilliantly with this well-written fascinating book. It's worth rereading and certainly would be an excellent companion for a visit to England, Scotland or Ireland.
The Author: Peter Ross
Freelance journalist Peter Ross has won nine times at the Scottish Press Awards and been shortlisted for the Orwell journalism prize.  He is a regular contributor to the Guardian and The Times.
He also is the author of the nonfiction collections of reporting, DAUNDERLUST and THE PASSION OF HARRY BINGO. The latter was shortlisted as nonfiction book of the year at the Saltire Society Literary Awards.
He lives in Glasgow with a view of the tombs. He has worked as a journalist in Scotland since 1997.
#peterross #tombwithaview #jeannettehartman