By Simon Armitrage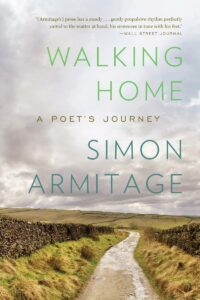 In the summer of 2010, English poet Simon Armitrage, 47, decided to walk the Pennine Way, a 256-mile trek along the watershed of a range of mountains running from the Scottish Borders to the English Midlands.
He wanted to write about about England's north, where he lives; he wanted to write about the land and people; and he wanted to write something of a memoir.
Walking the length of the
Pennine Way
seemed to be the ideal platform. He planned to be a poet troubadour along the way, giving free poetry readings in exchange for places to stay, meals or help getting his over-stuffed suitcase from stop to stop. Although he didn't charge anything for the readings, he did "pass the sock" to collect donations to help offset the costs of the trip.
Most people walk from Edale, Derbyshire, in England, north to Kirk Yetholm in Scotland. Armitrage walked it from north to south, however, always walking homeward.
From his home in the West Yorkshire village of Marsden, Armitrage took a train to Scotland. He gave a poetry reading in the library of Scottish writer Sir Walter Scott's home on July 7, 2020.  It was the first of 19 consecutive poetry readings in civic centers, pub gardens, research centers, libraries and private homes.
His readings weren't entirely — or even mostly — his own poetry. Some of the poems he read came from earlier, heroic journeys made by Odysseus coming home from Troy and Sir Gawain searching for the Green Knight.
Scott was just the first of several writers that he shared a path with. He gave a reading at St. Oswald's Church, Grasmere, where poet and renowned walker William Wordsworth is buried. He walked past the ruins of Top Withens, which may have inspired Emily Brontë while writing WUTHERING HEIGHTS. He spent the night in the house in Mytholmroyd, West Riding, Yorkshire, where poet Ted Hughes spent part of his childhood.
His three-week walk took him on easy paths through meadows and between farms, over slimy bogs,  across featureless moors and up fog-bound, stony crags. During his walk, he stayed in student dormitories, pubs, hotels, lovely guest rooms in old houses and barely dusted storage rooms with beds. At one stop, he stays at an immaculate ranch and after dinner gives a reading to a mere five people, guests of his hosts.
Armitrage has a keen eye for detail and brings alive the weather, surrounding vistas, his moods and physical discomforts. He offers snapshots of his hosts, the fans who join him for parts of the walk, and the strangers passing on the path.
Although not without dangers, this is no life-threatening physical adventure. Armitrage is not afraid to discuss his fear of getting lost in fogs or on unmarked slopes. There's little suspense to this tale; he has a set itinerary and people who know when to expect him where.
WALKING HOME is a lovely armchair adventure through an interesting part of northern England. Armitrage makes it sound accessible to the average person with a good streak of determination.  The final chapter describes three possible endings for his long walk, none of which I'll reveal here. His honesty about the challenges of the last five or six miles of the trail are easy to relate to.
I discovered Armitrage while reading Raynor Winn's THE SALT PATH, Winn and her husband Moth walked the majority of the 630-mile South West Coast Path the year after WALKING HOME was published. On several occasions, Moth was mistaken for Armitrage, although the two men don't look alike.
Unlike Armitrage, the Winns slept "wild" outdoors in a tent they bought off of Ebay. They had just lost the farm that was their home and source of income. Adding to the challenges they faced, Moth had been diagnosed with a degenerative brain disorder shortly before they started out. The Winns' story has more suspense because of their lack of money and support system, rough accommodations and Moth's condition.
Both are great stories by talented writers. They make you want to reach for your rucksack and hiking boots and walk out your own front door.
About the Author: Simon Armitrage CBE, FRSL (1963 – )
Simon Armitage is an English poet, playwright and novelist who was appointed Poet Laureate on May 10, 2019. He is a professor of poetry at the University of Leeds and succeeded Geoffrey Hill as Oxford Professor of Poetry, when he was elected to the four-year, part-time appointment from 2015-2019.
He grew up in the village of Marsden in Yorkshire, where his family still lives. His father, Peter, a former electrician, probation officer and firefighter, is known in the area for writing plays and pantomimes for an all-men group of actors, The Avalanche Dodgers.
Armitrage wrote his first poem at the age of 10. He studied geography at Portsmouth Polytechnic and was a postgraduate student at the University of Manchester.  He wrote his master's thesis on the effects of TV violence on young offenders. Without a job, he decided to train to be a probation officer. He held that position in the Greater Manchester area until 1994, even as he began to write poetry more seriously.
In addition to collections of poetry, Armitage has written two novels: LITTLE GREEN MAN (2001) and THE WHITE STUFF (2004). In 1998, he wrote a collection of essays on Northern England, ALL POINTS NORTH. He also writes for radio, television, film and stage.
He is married to radio producer Sue Roberts. their daughter Emmeline is also a poet. A lover of music, and a college friend founded a band, The Scaremongers, and he is also a DJ. His stint as Poet Laureate will end in 2029.