By Peter Dickinson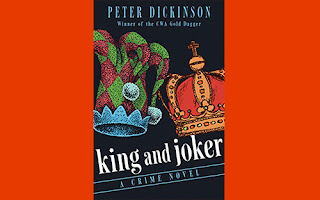 It has been such a long wait for the next season of "The Crown" that I couldn't resist this eccentric take on the inner workings of Buckingham Palace.
This book gives a nod and a princess wave to the modern Windsor monarchy and veers off into alternative history.
Its quirky story focuses on Princess Louise (known to the family as Lulu), who is on the cusp of adulthood. As she sleuths out who might be carrying off a series of pranks inside the palace, her eyes are opened to the eccentric dynamics of her own family. As her awareness grows, she realizes that few of her family connections are what she thought they were.
The alternative history that this story is based on is as follows: Lulu is the daughter of King Victor II, a great-grandson of Queen Victoria. His father, King Victor I, is loosely based on Prince Albert Victor, Duke of Clarence (1864-1892).
But where the actual Prince Albert Victor died of influenza shortly after his engagement to Princess Mary of Teck, KING AND JOKER assumes he survived.  The actual Princess Mary married her fiancée's younger brother, who became King George V in 1910, and is the ancestor of the current and actual British Queen Elizabeth II.
As this book opens, the royal family — King Victor II, Queen Isabella, Prince Albert, Lulu and the Queen's personal secretary, Miss Anona Fellowes (known as Nonny) — are at breakfast. Cost-cutting measures within the palace are under discussion when the king rises to carve himself two slices of York ham at the sideboard.
However, under the silver domed dish cover, there is no ham. Instead, there is a large, palpating toad, which Prince Albert claims ownership of.
This is our introduction to the palace pranks that grow in threat and malice. An early prank involved cutting off the legs of the evening suits belonging to the King's private secretary, Sir Savile Tendence, just before a palace reception.  Sir Savile was forced to attend inappropriately dressed. Another was the delivery of a bunch of pianos to the palace.
Soon, the pranks escalate to murder and the destruction of Prince Albert's zoo in the basement of the palace.
The investigation and identification of the murderer is far less interesting than Lulu's discoveries about her family — and the suspense about whether anyone else has guessed them as well.
Author Peter Dickinson writes for both adults and children. This book reads like a sophisticated young adult story. He has a gift for creating characters, such as Nurse Ivy Durdy, who after suffering a stroke is immobilized, although able to talk. Her former charges — from the king to Lulu — are constantly returning to her for conversation, comfort and advice. Dickinson blends the ordinary and average with the extraordinary and royal. This is a quirky, comic-serious story that you'll either love or hate.
The sequel to KING AND JOKER is SKELETON-IN-WAITING, which was named a New York Times Notable Book. It takes Princess Louise, now a wife and mother, to Uzbekistan, Tashkent, in search of information held by the late Mrs. Walsh, who claimed to be a royal relation from the Romanov branch of the family.
About the Author: Peter Malcolm de Brissac Dickinson, OBE FRSL (1927 – 2015)
Peter Dickinson was an award-winning English author and poet who published nearly 60 books of crime fiction for adults, speculative and supernatural fiction for older children and simpler children's books. He didn't publish his first novel until he was nearly 40.
His first two adult mysteries — SKIN DEEP (1968) and A PRIDE OF HEROES (1969) — won the Crime Writers' Association's Gold Dagger Award.
He won the annual Carnegie Medal from the Library Association for two children's books TULKU (1979) and CITY OF GOLD (1980), becoming one of only seven writers to win two Carnegies through 2012. In 2000, he was a finalist for the Hans Christian Andersen medal for his contributions as a children's writer.
According to William Grimes, who wrote his obituary in the New York Times, "Mr. Dickinson's appetite for arcane knowledge and his taste for unusual situations, often those from the past made him a highly unpredictable genre writer."
He was raised in what is now known as Zambia, one of four brothers. His parents moved the family to England in the 1930s so the boys could attend British schools.  His father died suddenly but he was able to continue his education with support from the family. He studied at Eton (on scholarship) until 1946, completed his National Service and went on to King's College, Cambridge.
From 1951 to 1968, he was an assistant editor, resident poet and reviewer for Punch magazine.  In 1968, he published his first two books, a mystery for adults and a science fiction novel for children. He completed sequels for both and left Punch in 1969 to write full-time.
He and his wife Mary Rose Barnard had two daughters and two sons, including the author John Dickinson. After his first wife died, he married writer Robin McKinley. He died on his 88th birthday.
In addition to the Princess Louise series and his children's books, he wrote a series featuring Scotland Yard Inspector James Pibble and 13 stand-alone books.