by Ross Macdonald
When private investigator Lew Archer is called in to track down missing multi-millionaire Ralph Sampson, he finds a family and associates focused everywhere but on the missing man.
Ralph's wife, Elaine, doesn't particularly care where he is as long as he isn't giving away his money on a drunken spree.
His daughter Miranda can't keep her eyes — and often her hands — off Ralph's private pilot Alan Taggert.
Ralph's attorney, Albert Graves, is focused on Miranda, whom he wants to marry even though it's clear her desires lie elsewhere.
Archer's efforts to track down Ralph lead him to an aging movie star on a downward trajectory, her murderous husband, a sado-masochistic Hollywood bar and a sun-worshipping guru.
As Archer slowly works out the connections between them all, he finds out that Ralph Sampson's worst enemies are much closer to home.
This is the first of an 18-book series featuring Lew Archer, a disillusioned Long Beach cop who was fired and goes to work for himself. The series spans the late 1940s into the early 1970s.
Archer is often described as the successor to Raymond Chandler's Philip Marlowe, especially in the early books of the series. The two detectives are separated in time by a decade and in history by World War II. Chandler's books evoke a more distinctive period in Los Angeles' history than do Macdonald's.
Where Marlowe was a man with a code of justice all his own prowling L.A.'s dark, corrupted shadows for clients, Archer is an observer. Macdonald offers little more information about him than you find in The Moving Target: he's about 30 years old, a World War II veteran who worked in U.S. Army intelligence and a 12-year member of the Long Beach Police Department until he was fired for unstated reasons.
The Author: Ross MacDonald (1915 – 1983)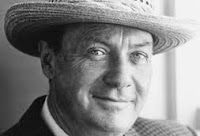 Ross Macdonald is the pen name of Kenneth Millar. Although his first four novels were written under his own name, he changed to his professional name in 1949 to avoid confusion with his wife, Margaret Millar, who was achieving success of her own as a mystery writer.
Born near San Francisco, Millar grew up in Vancouver, British Columbia. He earned a Phi Beta Kappa key and a doctorate in literature from the University of Michigan. He began his career writing stories for pulp magazines and completed his first novel, The Dark Tunnel, in 1944 while in graduate school. His studies were interrupted by a stint as a naval communications officer from 1944 to 1946.
Critics have described Macdonald as the literary heir to Dashiell Hammett and Raymond Chandler. Screenwriter William Goldman, who adapted some of his stories for film, called his books "the finest series of detective novels ever written by an American." Among the films based on Macdonald's books were "Harper" (1966) and "The Drowning Pool" (1975), both starring Paul Newman. "Archer," a 1975 NBC TV series starring Brian Keith, was also based on the Archer series.
Tom Nolan, his biographer, wrote that Macdonald's first books were inspired by Hammett and Chandler and retold Greek and classical myths in the context of postwar California. Nolan added that his later books shed the hard-boiled approach for stories that were more psychological — personal identity, family secrets and scapegoats; the need and hostility of men and women for each other.
In the mid-1950s, Millar and his wife moved to Santa Barbara, where they lived for 30 years. Like crime novelist Sue Grafton, the Millars used the name "Santa Teresa" in their novels for the Santa Barbara-like setting of many of their stories.
He received the 1974 Grand Master Award from the Mystery Writers of America, and the 1982 Lifetime Achievement Shamus Award from the Private Eye Writers of America.
Millar died in 1983 of Alzheimer's.