by Kate Quinn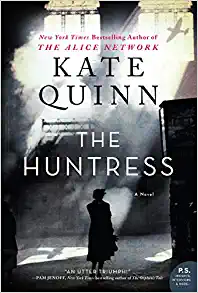 A reporter turned Nazi hunter, a fearless Russian woman pilot and a girl aspiring to be a great photographer are all touched by the cold murderer known as die Jägerin, or the Huntress.
Ian Graham believes the Huntress killed his younger brother. Nina Markova knows she did, because she was there. Jordan McBride, through a string of photographs, suspects that her new stepmother has a hidden dark side.
Kate Quinn tells this absorbing story with chapters that move through space between Boston, Vienna, western Poland, Siberia, Moscow and western Russia and through time from 1937 into the 1950s. The story is told through the experiences of Ian, Nina and Jordan.
Ian, after reporting on the war and the Nuremberg Trials, has shoved aside his typewriter and turned to hunting the Nazi war criminals the world has grown tired of looking for. On the top of his list is die Jägerin, mistress of a married SS officer in German-occupied Poland, hostess of lavish parties in a chateau on Lake Rusalka and a keen hunter of people whom she kills for sport on her estate.
Nina was born on the shores of a Siberian lake. Her passel of wild brothers and sisters grow up to become petty criminals or get pregnant. At 16, Nina's alcoholic father tries to drown her in a freezing lake. When an airplane with engine trouble is forced to land near the lake, Nina catches her first glimpse of an escape from home. She runs away, learns to fly and pushes her way into the 588th Night Bomber Regiment.
Formed in 1941, this all-woman regiment flew night raids against the Germans. Known for idling the plane's engine on approach to bombing targets, they were called the "Night Witches" because the sound of the wind around the planes reminded the German soldiers of broomsticks.
Nina's time with her regiment comes to an end when her iconoclastic father catches the attention of Stalin's minions. By association, she becomes unwelcome. Rather than be sent to prison like her father, Nina crashes her plane in Poland and lives in hiding to avoid the Nazis.
Along the way, she meets Ian's younger brother. His overly trusting nature leads him to approach die Jägerin seeking help. It proves fatal for him. Nina is one of the few victims of die Jägerin to escape alive.
Jordan grew up far from the horrors of World War II in Boston. When her long-widowed father marries the elegant and charming Annelise Weber, she wants to like her. But she can't shake a sense of unease. At first it was a shadow of cruelty caught on her stepmother's face in a photograph. Other things arise, but when confronted, Annelise has plausible explanations.
Jordan grows to like her stepmother and love her new stepsister, the subdued Ruth. Then Jordan's father dies in an unlikely hunting accident at their remote cabin while Ruth and Annelise are shopping for Jordan's wedding dress.
The final chapter of die Jägerin is a masterpiece of strategy, psychology and daring.
Kate Quinn's characters shine in this book, especially the dynamic Nina Markova. She's that rare female character who is spunky, wild, courageous, irreverent and capable. Ian is a Brit with a Harrow education. His dwindling inheritance is funding his Nazi hunting. But Ian isn't old school. He loves strong women like Nina and he is gentle enough to teach young Ruth how to play the violin.
An enjoyable read.
Kate Quinn is also the author of The Alice Network.
About the Author: Kate Quinn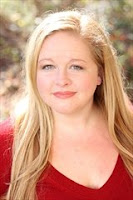 A native of Southern California, Kate Quinn went to Boston University to study classical voice, earning both a bachelor's and master's degree.
A lifelong history buff, she has written novels set in Roman times, the Italian Renaissance during the early years of the notorious Borgia clan and The Alice Network, set in France during World War II.
She and her husband now live in San Diego with two rescued dogs named Caesar and Calpurnia.