by Graeme Macrae Burnet
This is a mystery most subtle.
A dark green Mercedes sedan, heading south from Strasbourg on the A35, leaves the road, runs down a slope and hits a tree at the edge of a small wood on drizzling November night.
Hidden by trees, it wasn't spotted until 10:45 p.m. by a passerby. The driver is dead.
Georges Gorski, chief of police in nearby Saint-Louis, is called to the scene. He makes a tour around the car. It's not that he expects to find anything illuminating, but it's expected of him. He reaches into the victim's clothing and gets his wallet. The victim's name is Bertrand Barthelme.
Gorski decides to contact the family immediately so they don't learn of the death accidentally. Neither the widow, Lucette Barthelme, nor her son, Raymond Barthelme, show much emotion about the news. Gorski asks them to come to the morgue to identify the body in the morning.
On the return from the morgue, Mrs. Barthelme tells Gorski she's been thinking about something all night: Why was her husband on the road from Strasbourg?
That simple question sets this story in motion.
Burnet is aptly compared to Belgian author Georges Simenon and his character Police Superintendent Jules Maigret. The point of a Maigret book, according to New Yorker critic Joan Acocella, is Maigret himself. The detection — figuring out who dunnit — takes a back seat to character and story.
Georges Gorski is a wonderful, world-weary character. He has decades of experience as a policeman. His wife, Celine, has taken their daughter and left him. He brings groceries to his mother every week and goes along with her memory lapses. Where his predecessor was an intuitive, extroverted, glad-hander, Gorski is quiet and ill at ease. He's a methodical policeman.
He is a contrast to Raymond Barthelme, the victim's son and an impulsive, resentful, rebellious teenager steeping in existentialism. Raymond goes through his father's desk, finds a piece of paper with a Strasbourg address and begins his own investigation.
If your tastes run to the action-packed, explosive thrillers, this isn't the book for you. If you like well-drawn characters in a well-written, interesting story with s surprising ending, you'll enjoy this one.
The Author: Graeme Macrae Burnet (1967 – )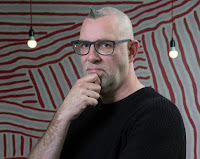 Graeme Macrae Burnet is a Scottish writer whose three  novels — The Disappearance of Adele Bedeau (2014), His Bloody Project (2015) and The Accident on the A35 — have been critically well-received. His Bloody Project was shortlisted for the 2016 Man Booker Prize. The Disappearance of Adele Bedeau earned the Scottish Book Trust New Writer Award in 2013.
Born in Kilmarnock, Scotland, he currently lives in Glasgow. He holds a master's degree in English literature and film studies from Glasgow University and a masters of letters in international security studies from the University of St. Andrews