by Kate Quinn
Two women. Two wars. Two mysteries.
Nineteen-year-old Charlie St. Clair is pregnant and tormented by grief and guilt that she was unable to save her brother from suicide when he returned home from World War II. She's obsessed with the fate of her French cousin Rose Fournier, who hasn't been heard from since 1944.
Evelyn Gardiner drinks herself into oblivion at night with a Luger close by to keep the nightmares at bay. Recruited from a solicitor's file room in 1915, Evelyn had spent World War I in Her Majesty's Secret Service working with the famed Alice Dubois, head of an extensive network of spies, forgers and couriers getting information about German military activities and plans to British and French generals.
The two women's lives intersect in May 1947. Charlie has escaped from her mother and her plans to take Charlie for a discrete abortion at a Swiss clinic, followed by a wardrobe overhaul at Dior and a pep talk about finding an appropriate husband. Evelyn has become a curmudgeonly recluse living in Pimlico with the help of handyman and driver Finn Kilgore, an ex-con whose own heart is scarred by his war experiences.
Charlie lands on Evelyn's doorstep because Charlie saw her signature on paperwork uncovered during her family's search for Rose and her family. Evelyn had worked at a bureau helping to locate refugees in 1945 until getting fired at Christmas 1946.
Evelyn has no interest in Charlie's problems until she mentions that at the time of Rose's last contact she had been working at a restaurant in Limoges called Le Lethe owned by a Monsieur Rene  — two names that Evelyn knows well from her darkest past. Charlie's quest offers an opportunity for vengeance.
The chapters in this engrossing story alternate between Charlie's world in 1947 and Evelyn's past in German-occupied Lille, almost at the border between France and Belgium, in World War I. As the story unfolds, the traits Charlie and Evelyn share are revealed: courage, intelligence and a need to escape society's expectations. Charlie's decision to keep her baby forces her to design a different future than she had anticipated. Their adventures show Evelyn that she is not at the end of her life, she is on the threshold of new adventure that she can invent with much more freedom than in her youth.
One of fascinating elements of this story is that the Alice Dubois of this book is closely based on the life and accomplishments of Louise de Bettignies, a former governess who led a spy network in northern France and southern Belgium and used the code name Alice Dubois.
Once famous, Louise de Bettignies and her female associates today are largely unknown and unsung. The Alice Network is a seamless blend of fiction and fact and a welcome reminder of the courage and creative improvisation of women spies in an era when women didn't even have the right to vote.
If you enjoyed this book, you may also enjoy Quinn book, The Huntress.
The Author: Kate Quinn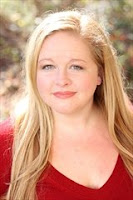 A native of Southern California, Kate Quinn holds both bachelor's and master's degrees in classical voice. A lifelong history buff, she has also written a series, The Empress of Rome Saga, about the closing days of the Roman Empire and books about the Italian Renaissance and the rise of the infamous Borgia clan.
She and her husband now live in Maryland with two black dogs named Caesar and Calpurnia.