By Ava Morgyn; reviewed by Jeannette Hartman
When sisters Cordelia and Eustace Bone learn that an aunt they never knew they had died and left them her estate, they are surprised. The inheritance injects some hope into their troubled lives.
The sisters expect their inheritance to be a cottage or small farmhouse in Connecticut with a modest financial bequest.
Instead, they find a three-story mansion packed with museum-quality antiques, a solarium full of plants with a pond, an enormous surrounding estate and a town that hates and fears the Bone family.
They are welcomed by the elderly Bennett Togers and his funereal son and chauffeur Arkin. Bennett clearly knows the Bone family well but is light on explanations when he leaves the estate documents behind for their review and signatures.
They soon learn that the house and property are bound by a dynastic trust that prohibits the sisters from selling the property. They also learn that once they sign the documents, they will be enormously wealthy.
Piece by piece they learn other things: they come from a generations-old family of Nordic witches, and each sister has special sustaining powers she must discover and learn to use.
They also learn that their powerful family has powerful enemies that the sisters must vanquish. Their only ally in this mission is the handsome and protective groundskeeper Gordon Jablonski. His mother had died on the property and he has nearly as many questions as the Bone sisters.
This story is part cozy, part romance, part ghost story and part mystery. The lore about runes and Nordic witchcraft is interesting. This is a fun bit of entertainment for a Halloween season evening.
The Author: Ava Morgyn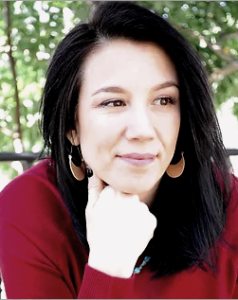 Native Texan Ava Morgyn is a lover of witchcraft, tarot and powerful women with bad reputations. She is the author of the young adult novels RESURRECTION GIRLS and THE SALT IN OUR BLOOD.
She studied English writing and rhetoric at St. Edward's University in Austin, TX.
When not writing dark tales, she writes for her blog on child loss (forloveofevelyn.com). Her own 18-year-old daughter Evelyn died of Sudden Unexpected Death in Childhood in 2017. hunts for vintage treasures and reads the darkest books she can find.
She lives in Houston with her family, surrounded by antiques and dog hair.
#avamorgyn #jeannettehartman #witchesofbonehill