By Eva Bjorg Ægisdóttir; translated by Victoria Cribb; reviewed by Jeannette Hartman
When a pair of teenagers discover a body face down in the water near an historic lighthouse, police can find little to explain the death or the victim's identity.
Her injuries are consistent with being hit by a car — but there are no cars in the parking lot around the lighthouse. She also appears to have been strangled and dragged to the water.
Elma, who had moved back to her home town of Akranes, Iceland, five weeks earlier after the painful ending of a long-time relationship, had worried that working Akranes wouldn't be challenging after working as a detective in Reykjavík.
The mystery victim from the lighthouse proves to be just as challenging as anything she encountered in Reykjavík.
A worried husband, Eirikur, reports that his wife, Elísabet Hölludóttir, a pilot, got dressed and left for work that morning but hasn't returned. The airline she works for says that she called in sick. Eirikur identifies the body by the lighthouse as his wife.
With this, Elma and her colleagues have their first lead on a crime that turns increasingly complex.
According to Eirikur, Elísabet disliked Akranes intensely but never told him why. He has no explanation for why she might have come back to live there.
Returning to Akranes, Elma is reintroduced to the town's power structure. Her boss, Hörður Höskuldsson, head of Akranes CID, is reluctant to question one of the town's richest citizens, Hendrik Hendriksson, a realtor, who owned the house that Elísabet's alcoholic mother, Halla Snæbjörnsdóttir, rented as Elísabet was growing up.
Hörður orders Elma to stay clear of the Hendrikssons, even after the police learn that Elísabet had come to the home of Hendrik's son Bjarni and daughter-in-law Magnea the night she died. Magnea said that she turned Elísabet away because they were having a dinner party that evening. While she told Elísabet she would meet her afterwards, Magnea said she forgot and had no idea what Elísabet wanted.
Hörður and even Elma's partner Sævar believe that the most likely explanation for Elísabet's death is marital problems with her husband. Elma believes the roots of Elísabet'a murder lie in the past.
Author Eva Bjorg Ægisdóttir alternates chapters dealing with the investigation with chapters telling of Elísabet's past, from her perspective as a child. Subtle seeds of information sprout slowly, sending a reader's suspicions in new directions.
This is a harrowing story of childhood wounds that never heal, of what the powerful inflict on the vulnerable and the violence of long-delayed justice. There's more than one murder in this story and more than one victim.
Ægisdóttir leaves room for readers to decide for themselves who the guilty ones are.
The book was followed by GIRLS WHO LIE and NIGHT SHADOWS.
The Author: Eva Björg Ægisdóttir (1988 – )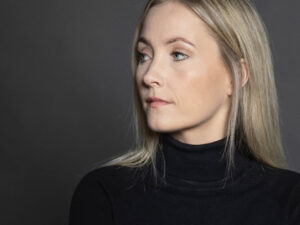 Like her protagonist Elma, Eva Björg Ægisdóttir was born and raised in Akranes, about half an hour north of Reykjavík.
After earning a bachelor's degree in sociology, she moved to Trondheim, Norway, where she earned a master's degree in globalization.
In 2015, she moved back to Iceland and decided to begin her first novel. Always fascinated by books, Eva won a short story contest when she was a teenager and decided to become a writer.
To free up time to write while also being a mother, she took a job as a flight attendant. The first draft of her novel was completed in nine months.
THE CREAK ON THE STAIRS (2020) was her debut novel.  It won the Blackbird Award in 2018 and became a bestseller in Iceland. The crime-writing award is hosted by Icelandic authors Yrsa Sigurdardottir and Ragnar Jonasson.
In 2021, THE CREAK ON THE STAIRS won the British Crime Writers Association (CWA) John Creasey New Blood Dagger honoring previously unpublished writers.
She lives with her husband and three children in Reykjavík.