By Sarah Schmidt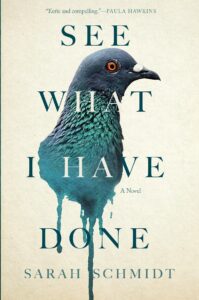 Today, Aug. 4, 2022, is the 130th anniversary of the murders of Andrew Borden and his second wife Abby in Fall River, MA.
Andrew's 32-year-old daughter, Lizzie, was charged, tried and acquitted of the murders, although her community and posterity have viewed her otherwise. Officially, the murders remain unsolved.
What author Sarah Schmidt offers here is a fictionalized retelling of the days leading up to the murders and what followed.
She doesn't bring forward any unknown clues nor an alternative killer. She relies on historical facts while imagining the emotions of Lizzie, her sister Emma and their servant Bridget Sullivan.
What Schmidt does brilliantly is paint the context and the emotional states of the prime people in a way that makes it possible to understand what happened. Research, known facts and often contradictory witness statements inspire this novel.
The days before the murders were simmering with heat. The Borden House, 92 Second St., in Fall River, MA, was kept locked. There had been a mid-day burglary the year before. Andrew Borden required that the doors of the house be locked at all times. Because several members of the household believed that Lizzie was the thief, they kept their bedrooms locked as well. Air circulation was minimal.
The house creaked and popped in the heat. The pigeons fluttered and scratched as they settled on the metal roof.
Inside the family, emotions, conflicts and resentments bubbled. Emma and Lizzie, resented their stepmother Abby Durfee Gray, even 26 years after she married their father. They referred to their stepmother as "Mrs. Borden."
Originally a cabinetmaker, Andrew grew wealthy investing in property and mill stock. But at home he was parsimonious, complaining about household expenses and refusing the girls' requests to move to a higher status neighborhood.
Andrew was as generous with criticism as he was frugal with affection. The women of the household competed with each other for his favors and approval. He had recently bequeathed the family house to Abby and her sister, which displeased Emma and Lizzie.
Cook and maid Bridget Sullivan had more than once been on the verge of leaving. The family called her "Maggie," her predecessor's name, as if it were too much trouble to learn Bridget's name.
Watching the girls eat meals separately from Andrew and Abby, then being asked to report on their whereabouts and activities, leads Bridget to think, "I could never get used to the hot and cold rhythm of the house, could never trust it. . . . Whole bloody family was crazy."
Schmidt portrays Lizzie as emotionally immature, impulsive, prone to tantrums and rages and dependent on her sister. Emma can calm Lizzie down when she gets upset; no one else can. Lizzie imagines having tentacles that she could wrap around Emma to keep her at home.
Emma feels stifled, unable to travel or become an artist because Lizzie would be jealous and unmanageable. She thinks of all the things she could have done with her life. Lizzie has it better, she believes, "simply because Father lets her do anything she wanted.
"I ought to abandon the fanciful and take what was real, that I lived with my father and stepmother, lived with a sibling who would never give me up."
The frictions in the family rise as Aug. 4 approaches. The elder Bordens, Emma's and Lizzie's visiting maternal uncle John Morse, and Bridget all suffer from food poisoning; they've been eating mutton broth for days so it doesn't go to waste. Lizzie tells a neighbor she's afraid someone is poisoning them. Emma has made a rare visit to a friend.
Schmidt's telling of the story leaves room both for speculation and ambiguity about the killer's identity. Her version of events touches on almost every theory about the murders.
Lizzie and Bridget were the only known people in the house with the elder Bordens at the time of the murders. Bridget had been ordered by Abby to wash the windows inside and out, which kept her out of the house for awhile. She then went up to her third-floor room feeling headachy and queasy to rest.
Lizzie told several people that her stepmother had been called away to the home of a sick relative. The note disappeared; the story delayed the discovery of Abby's body for several hours. Andrew Borden came home from work about 10:30 a.m. feeling unwell. Lizzie suggests that he lay down on the sitting room couch. Half an hour or so later, Lizzie calls for Bridget saying that someone had killed her father.
After the murders, Emma is called home. When she queries Lizzie about what happened, Lizzie gets irritable. "'Maybe no one would have died (if you hadn't gone away) . . . maybe a monster wouldn't have broken in if an extra person had been here to guard the house.'"
One thing that makes this novel so intriguing is that she comes up with an explanation for most of the unanswered questions surrounding these murders. Was John Morse involved in the murders? Schmidt shows how he might have been. And the possible role of the mystery stranger that some witnesses reported during the trial.
She explains the missing murder weapon and the lack of blood spatter on Lizzie's clothing, as well as what Lizzie was seen burning the next day.
She also explains why the sisters parted ways and never spoke again a dozen years after the murders. (The sisters died 10 days apart and are buried in the plot with their father and stepmother.)
This book is a highly satisfying read. It's beautifully written and offers a thought-provoking perspective on an enduring historical mystery.
The Author: Sarah Schmidt
Author Sarah Schmidt found a pamphlet about Lizzie Borden in a second-hand bookstore in 2005. Riddled with inaccuracies, the pamphlet made an impression on Schmidt who dreamed about Lizzie Borden that night.
She started jotting down images that came to her. The book took 10 years to write.
She holds a bachelor's degree in professional writing and editing and a graduate diploma in information management. She works as a reading and literacy coordinator at a Melbourne public library.
She lives in Melbourne with her partner and daughter.
For persons interested in knowing more about Lizzie Borden and the murders, she recommends lizzieandrewborden.com.
Published in 2017, SEE WHAT I HAVE DONE won the Australian Book Industry Award  (ABIA) for Literary Fiction of the Year 2018 and the 2018 Mud Literary Prize.