By John Preston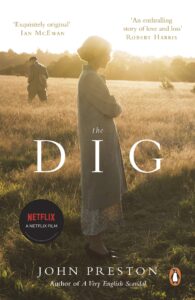 In the spring of 1939, as war threatens Europe, a wealthy widow decides to excavate a barrow on her farm in Suffolk.
It was something she and her husband, Frank Pretty, had always planned to do. But Frank died in 1934 and the world was changing. This might be her last, best chance.
The epilogue is told by Mrs. Pretty's son, Robert, who had been a child during the excavation. He's invited back to the dig and is able to tell the people finishing up the dig what happened to the original diggers and people involved in the dig.
Told in a low-key manner and a stately pace, the unveiling of the ship takes center stage. In reality there is no ship; there is only the impression left of the ship after the wood that formed it decayed and disappeared. The metal parts — bolts, helmets, jewelry, coins and other objects — were left behind.
Author John Preston has created a romantic version of this story, complete with meditations on the fleeting nature of human life measured against the enduring survival of this ship, built to honor a king. Mrs. Pretty died at the age of 59 from a stroke just three years after the discovery at Sutton Hoo. Preston entirely invented the character of Rory Lomax, a cousin of Mrs. Pretty's who took photographs at the site.
If you have seen the movie, it closely resembles the book with more drama and more romance. There are no intimations about Peggy Piggot's husband's sexuality in the book nor of any romance between her and the fictitious Rory. Robert, who is portrayed in the movie as a dreamer aspiring to be a pilot or an astronaut, in reality becomes a farmer, and much like his parents, died before the age of 60.
And while Mrs. Pretty promises in both book and movie that Basil Brown, the self-taught, uncredentialed and excellent excavator of Suffolk soil and antiquities, will get credit for his work in all presentations and exhibitions of the discovery as part of her transfer of the find to the nation, he does not. Preston's book is the spotlight on Brown's achievements.
This is a beautiful and satisfying story told in a quiet voice.