By Catherine Ryan Howard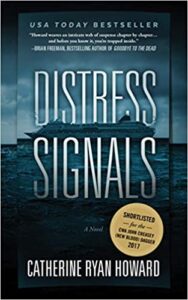 When Adam drops Sarah off at the Cork International Airport for what she says is a business trip to Barcelona, all seems well.
He's just sold a script and the studio wants revisions that he plans to work on while she's gone.
But when she doesn't get off the plane the following Thursday, his life falls apart.
She hasn't answered her phone. Her worried parents haven't heard from her. He gets her passport in the mail with a note saying only "Sorry, S."
At her office at a headhunting firm, they say she wasn't on a business trip; she'd called in sick. The police are taking a wait-and-see approach. They see no evidence that she was in danger.
Friends point out that he'd been blind to the state of their relationship. For 10 years, she'd supported him while he pursued his dream of becoming a screenwriter. While friends were getting married, Adam and Sarah simply drifted. One of Sarah's friends reluctantly tells him she'd been having an affair. The business trip wasn't a business trip; it was a fling on a cruise ship.
The more Adam investigates, the more dangerous cruise ships appear: so much ocean to hide a body in; so easy to get rid of evidence; such incentive for a cruise line to cover-up problems; such strange maritime laws and jurisdiction issues to stand in the way of investigation.
Then Adam meets a man whose wife disappeared from the same ship in almost the same way a year earlier. At that point this mystery kicks into high gear.
This is an imaginative mystery with multiple suspects and a surprise ending. By the time you finish this book, you'll never consider taking a cruise again.
About the Author: Catherine Ryan Howard (1982 – )
DISTRESS SIGNALS (2016) was Catherine Ryan Howard's first novel. It was shortlisted for the CWA John Creasey/New Blood Dagger and Irish Crime Novel of the Year.
The idea for the novel came after her mother shared a newspaper article about a British Disney employee who had gone missing from a Disney cruise ship. Inspired to do research, she soon learned that far from being a relaxing paradise of buffets, cocktails and night clubs, cruise ships are ideally set up for crime.
It was followed by the acclaimed books THE LIAR'S GIRL (2018), REWIND (2019), THE NOTHING MAN (2020) and 56 DAYS (2021).
Howard worked as an administrator for a travel company in The Netherlands and was a front desk agent in a hotel in Walt Disney World, FL.
She studied English literature at Trinity College in Dublin as an older student; she took her first second-year exams the day before DISTRESS SIGNALS launched.