By Megan Abbott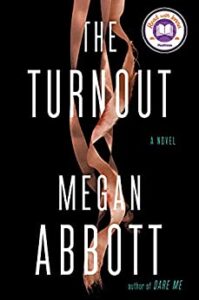 Few writers recreate the claustrophobic hot house of intimate and family relations as well as Megan Abbott.
In this, her 10th novel, the setting is a family-owned dance school on the eve of the Christmas "Nutcracker" season.
When a space heater causes a fire in a studio, a contractor (Derek "Something") has to be brought in to make repairs quickly. But Derek's arrival, with his own less-than-stellar agenda, sets off emotional and psychological reactions that turn the Durant family and the ballet school upside down.
This is a sensually told story with jarring juxtapositions: the beauty of satin toe shoes that have to be slashed with knives and pounded with hammers to be wearable; the ethereal illusions built on sweat, pain, hunger and ambition that are "hidden behind the glitter and cheap satin, the ruffles and netting and tulle."
Little girls in pink tutus swirling through the halls as the large and oh, so masculine Derek booms out comments and suggestions, his natty boots leaving "mud membranes" across the studio floors. With the Nutcracker season looming — eight weeks of auditions, rehearsals, and costume fittings leading up to 16 live performances over two weeks — the Durants don't have a lot of leverage for negotiations.
Seductive and manipulative, Derek soon goes from discussing a simple, straightforward repair job to plans that encompass the Durants' aging house in a reviving neighborhood. Information that the infatuated Marie spills to him threaten to reveal secrets that could destroy the Durants' world.
Suspense rises like the crescendos in Tchaikovsky's score. Like Clara, the heroine of The Nutcracker, Marie, Dara and Charlie find themselves on the verge of a metamorphosis that will crack the cocoon built of failed aspirations, childhood expectations, sex and secrets.
About the Author: Megan Abbott (1971 – )
In addition to writing crime fiction, Megan Abbott is a screenwriter, a journalist, college professor and TV producer.
Watching 1930s and '40s movies growing up gave her an enduring interest in crime stories. Among her influences are film noir, classic noir fiction and Jeffrey Eugenides novel THE VIRGIN SUICIDES. Two of her novels are based on actual crimes: THE SONG IS YOU, based on the disappearance of Jean Spangler in 1949, and BURY ME DEEP, based on the 1931 case of Winnie Ruth Judd, dubbed "the Trunk Murderess."
After graduating from the University of Michigan, Abbot went on to earn a doctorate degree in English and American literature from New York University.  She has taught at NYU, the State University of New York and the New School University. In 2013-14, she was the John Grisham Writer in Residence at the University of Mississippi.
Her work has won multiple awards and nominations, including the Mystery Writers of America's Edgar Award for outstanding fiction. In 2011, Time named her one of the "23 Authors That We Admire."