by Naomi Hirahara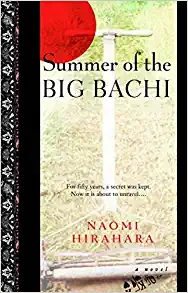 In Japanese, bachi means payback, retribution or karma.
For Mas Arai, the summer of 1999 was the summer of the big bachi — a summer when 50-year old secrets bubble to life again.
The secrets involve two thefts, one of an identity and the other of money.
Mas, 70, is in the twilight of his life.  These are not golden years. Chizuko, his wife, is dead of stomach cancer. Mari, their daughter, is pregnant and has married a Caucasian man he's never met. She has shared neither of these facts with her father.
His gardening business has been eroded by Mexican mow-and-blow yardmen.  His money-making clients have dwindled to Mrs. Witt, who has just announced that she's selling her San Marino mansion and moving closer to her daughter in Colorado Springs.
Everything takes a life-altering twist when a Japanese investigator claiming to work for the Japanese government, Shuji Nakane, shows up at Wishbone Tanaka's lawn mower shop searching for information on Joji Haneda. Haneda was believed to have died in Hiroshima in 1945 and now is suspected of being alive in Los Angeles.
Author Naomi Hirahara deftly leads readers back and forth in time and between Hiroshima and Los Angeles. Mas's family, like many others in Los Angeles, came from Hiroshima.  He was born in California but during the late 1920s or early 1930s returns to Hiroshima with his parents and siblings.
As tensions between the U.S. and Japan build into war, Mas finds himself living as the citizen of an enemy nation in Japan.  He is in Hiroshima when the atomic bomb is dropped on Aug. 6, 1945. He doesn't return to Los Angeles until several years after the war. Once back in his native land, he's treated like an enemy alien, just one of the many ironies running through this book.
The story of Mas broadly follows the story of Hirahara's own father.  She does a brilliant job of presenting the variety of Japanese experiences in the U.S. before, during and after the war from the families who left America to return to Hiroshima to those who stayed and were sent to internment camps to the young Japanese-American men who joined the U.S. military to prove their loyalty to America and those who became conscientious objectors and refused to fight for a country that deprived them of their civil rights.
This book is an excellent mystery that never allows its fascinating historical background to overshadow its suspenseful plot. Hirahara focuses our attention on a world that is so ubiquitous in Los Angeles, that of the gardner, that we turn blind eyes to it as we drive by. She has a keenly observant eye for the Los Angeles landscape, such as this description of a changing Japanese American neighborhood:
"Gardena was a cigarette burn below downtown Los Angeles.  At one time, Mas knew, the Japanese had multiplied in Gardena like mold on month-old leftovers. Now most of them, or least their children, had moved south to cozy neighborhood next to clean shopping centers and sanitized parks. The older and poorer ones had stayed behind, like passengers on a run-down boat.  But the food was still good and cheap, and old gamblers still frequented local coffee shops.  In other words, it was Mas's kind of town." (page 228)
The other books in the Mas Arai series include:
Gasa-Gasa Girl (2005)
Snakeskin Shamisen (2006)
Blood Hina (2010)
Strawberry Yellow (2013)
Sayonara Slam (2016)
Hiroshima Boy (2018)
Hirahara has also written a second series featuring 23-year-old Japanese-American Los Angeles Police Officer Ellie Rush. This series includes 
Murder on Bamboo Lane
 (2014) and 
Grave on Grand Avenue 
(2015).
The Author: Naomi Hirahara
Writer, editor and publisher Naomi Hirahara was a finalist for Barbara Kingsolver's Bellwether Prize and nominated for a Macavity mystery award for Summer of the Big Bachi. 

Publisher's Weekly included it on its best books of 2004 list, and the Chicago Tribune also included it on its best mystery list. The third mystery in the series, Snakeskin Shamisen, won a 2007 Edgar Allan Poe Award for Best Paperback Original.
Born in Pasadena, Hirahara grew up with two parents who survived the 1945 bombing of Hiroshima. Her maternal grandfather was killed in the blast. Shortly after the end of World War II, Isamu (Sam) Hirahara, her father, returned to California where he had been born to start a gardening and landscaping business in Los Angeles. He returned to Hiroshima in 1960 to marry Naomi's mother, May.
Hirahara worked as a reporter and editor at The Rafu Shimpo newspaper during the end of the redress and reparations movement for Japanese Americans who were forcibly removed from their homes during World War II. During her tenure there, the newspaper published a highly acclaimed inter-ethnic relations series after the Los Angeles riots in 1992.
She left the newspaper to serve as a Milton Center Fellow in creative writing at Newman University in Wichita, KS. In 1997, she returned to Southern California and began writing, editing and publishing books on the Japanese American experience and contributions to Southern California. Under her own small press, Midori Books, she has created books on the downtown Los Angeles flower market and the history of judo in Southern California from 1930 to 1941.
In addition to her mystery series, Hirahara has written short stories published in a number of anthologies, including Los Angeles Noir and an award-winning middle school book, 1001 Cranes. She writes a mystery series, "Heist in Crown City," that appears in Asahi Weekly in Japan twice a month. She teaches writing workshops and served as president of the Southern California chapter of the Mystery Writers of America in 2010.
Hirahara holds a bachelor's degree in international relations from Stanford University and studied at the Inter-University Center for Advanced Japanese Language Studies in Tokyo.