by Philip Kerr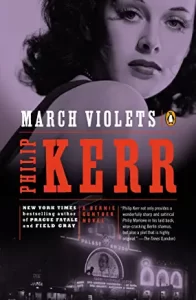 MARCH VIOLETS is the first book of author Philip Kerr's Berlin Noir trilogy featuring private investigator Bernie Gunther. Once a Berlin police inspector,  Gunther has been hired by industrialist Hermann Six to recover heirloom jewels taken from a safe in a bedroom where Six's daughter Grete and son-in-law Paul Pfarr, were murdered days earlier.
Pfarr, an attorney working for Reichsfuhrer Heinrich Himmler to eradicate corruption within the Reich, was not on good terms with his father-in-law. Six directs Gunther to track down the jewels, quickly and discreetly, in exchange for an inflated fee and a bonus from the insurance company.
Gunther takes to the streets of 1936 Berlin. Forbidden books are back in the stores and display cases of anti-semitic rants are being taken down to give tourists arriving for the Summer Olympics a more favorable impression of Germany under the National Socialists. Party members make jokes about the "March violets," the people who didn't have the passion to join the party early and are now signing up as a matter of self-interest.
As Gunther delves deeper, he finds his investigation being tailgated by interested parties as diverse as Six's movie star wife, the Berlin Police, Himmler, Hermann Göring, the SS and the Gestapo. While Gunther focuses on finding a safecracker good enough to have broken into the Pfarrs' wall safe, others are seeking papers that Pfarr may have kept there to prove the corruption cases he was working on.

A PI in the mold of Raymond Chandler's Philip Marlowe or Dashiell Hammett's Sam Spade, Gunther observes that most people's sensitivity to corruption "is about as blunt as a joiner's pencil stub." As the trilogy moves through The Pale Criminal and a German Requiem, Gunther finds his own corruptibility severely tested.
March Violets is violent and troubling. The writing is crisp, vivid and witty. Gunther describes an older woman's "paperclip lips" smeared with crimson lipstick as if she'd been wearing a boxing glove. He describes an informant with a "peppered mackerel of a face" and a chandelier in Six's house that was "bigger than a church bell and gaudier than a stripper's earrings."
Kerr wrote nine other novels that take Gunther through World War II and into the Cold War in Berlin, Eastern Europe, Buenos Aires, Havana and Munich, in story order:
Metropolis, set in 1928.
If the Dead Rise Not, Berlin 1934.
The Pale Criminal, takes place in Berlin 1938.
Field Grey, the Eastern Front, 1940.
Prague Fatale, Berlin, 1941.
The Lady From Zagreb, the summer of 1942.
A Man Without Breath, Berlin, 1943.
A German Requiem, takes place in Vienna 1947.
The One From the Other, takes place in Berlin 1949.
A Quiet Flame, Buenos Aires 1950.
The Other Side of Silence, Saint-Jean-Cap-Ferrat, 1956.
Prussian Blue, French Riviera, 1956.
Greeks Bearing Gifts, set in 1957.
About the Author: Philip Kerr (1956 – 2018)
A former copywriter for the advertising agency Saatchi and Saatchi, Kerr left to become a full-time writer in 1989.  He writes both fiction and known fiction for adults and has written children's books under the name P. B. Kerr, including the Children of the Lamp series.
He is best known for the historical thriller series that features Bernie Gunther, set in Germany and other places during the 1930s, World War II and the Cold War. As of the end of 2017, there were 13 books in the series. He has written 12 other, stand-alone novels.
In addition, he has written for the Sunday Times, the Evening Standard and the New Statesman.  He he is married to novelist Jane Thynne.  They live in Wimbledon and have three children.