by Julian Barnes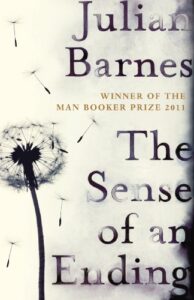 New York Times reviewer Liesl Schillinger describes this book as "a mystery of memory and missed opportunity."
The narrator, Tony Webster, (whom our readers describe as "callow" and "an unreliable narrator who is a mystery to himself"), is given a £500 legacy by the mother of his college girlfriend (Veronica).
He met the woman only once 40 years earlier and his relationship with Veronica ended badly. The mystery of why the bequest was made sends him sifting through the past, wondering what had happened to Veronica, a friend they had in common (Adrian Finn) and indeed Tony himself.
We concluded that Tony ultimately was a tragic figure because, as he slowly comes to realize, he set in motion the events that lead to tragedy for almost all of the major characters in the book. The realization opens his eyes to what a poor use he's made of his own life.
A compact and powerful book.
About the Author: Julian Barnes (1946 – )
Julian Barnes won the Man Booker Prize in 2011 for The Sense of an Ending. It was just one of a long list of prizes awarded to him in France, the United Kingdom and the United States.
After graduating with honors in modern languages from Oxford University, he worked as a lexicographer for the Oxford English Dictionary supplement for three years.  In 1977, he became a review and literary editor for the New Statesmen and later the Observer.
His novels include:
Metroland, his first. It explores the theme of how we grow into the very things we hated as a young person — stable, working class, bourgeous.
Before She Met Me. The central character destroys himself with jealousy when he investigates his second wife's past love affairs.
Flaubert's Parrot, about an English doctor's obsession with Flaubert and use of his writings to make sense of his own life.
Staring at the Sun.
A History of the World in 10 1/2 Chapters. This book, one of Barnes most studied and discussed, mingles fictional and historical narratives to lead us to question our ideas of history,
Talking it Over.
Letters from London, a collection of Barnes' essay as the London correspondent for the New Yorker.
Cross Channel
England, England.
The Pedant in the Kitchen.
Arthur and George.
His latest book is Levels of Life, which spans ballooning, photography, love and grief. One of the 2011 Man Booker Prize judges described Barnes as "an unparalleled magus of the heart," which comes through clearly in this book.