by Emily St. John Mandel
In 2014, when this novel was published, the pandemic at its heart seemed like fantasy.
In 2020, it seems eerily prescient.
Two events happen early in Emily St. John Mandel's book: celebrity actor Arthur Leander dies of a heart attack on stage in Toronto while performing as King Lear, and a virulent virus arrives in Toronto on a jet from Moscow.
People exposed to the flu get sick within hours; nearly 90 percent of those exposed die.
St. John Mandel weaves the story across time and through characters' lives. Leander is the thread that connects them all, some loosely, some closely.
His wives — Miranda and Elizabeth — are part of the story. Jeevan Chaudhary, a paparazzi-turned-entertainment-journalist-turned aspiring paramedic, figures in. Leander's lifelong friend Clark Thompson survives the pandemic and 20 years later is the curator of Museum of Civilization, displaying credit cards, cell phones, ballpoint pens and other artifacts of pre-virus civilization.The museum is in an airport where intercontinental air travel came to a halt when the lights and air traffic control went dark.
But most deeply woven of all is Kirsten Raymonde, a child actress in a speechless role in the Lear production who was on stage as Leander died. In Year 20, she is part of the Traveling Symphony, a group of musicians and actors roaming the settlements around Lakes Huron and Michigan giving concerts and performing Shakespeare. She has two tattoos: on her left arm is the Traveling Symphony's motto, "Survival is insufficient" and on her right are two knives, warnings of what the drive to survive has forced her to do.
The Traveling Symphony is circling back to a town where they left a pregnant member of their troupe and her husband two years earlier.  But when they arrive, they discover their friends are gone and the town is wary, threatening and controlled by someone known only as the Prophet.
They head on to the Museum of Civilization and its small surrounding community. The journey takes them closer to a showdown with the Prophet.
Interspersed with Kirsten's story are flashbacks to Leander's life: his upbringing on a small island near Vancouver; his early days trying to break into acting in Toronto; his marriage to Miranda; their divorce; his marriage to Elizabeth and the birth of their son, Tyler.
Although action in this story jogs from Toronto to Hollywood, from western Canada to New York, from Malaysia to Michigan, the novel has the feel of a miniature. The virus shuts travel and communication down to an intimate, personal level.
It's the type of book that haunts you years after you finish it. It's a quirky, odd story that reads like a fairy tale. The global village has shrunk to barely a village.
STATION ELEVEN was named one of "The 10 best books of 2014" by the Washington Post in 2014. It was a finalist for a National Book Award and the PEN/Faulkner Award and won both the Arthur C. Clarke Award and the Toronto Book Award in 2015.
About the Author: Emily St. John Mandel (1979 – )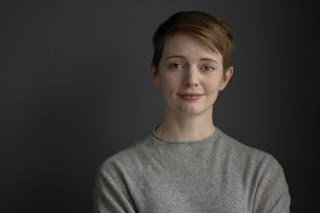 Canadian author Emily St. John Mandel had written three novels before STATION ELEVEN was published.
She was born and raised on Denman Island, off the west coast of British Columbia. She left high school to study contemporary dance at the School of Toronto Dance Theatre and lived for awhile in Montreal before relocating to New York City.
She lives in New York City with her husband and daughter