by Faith Martin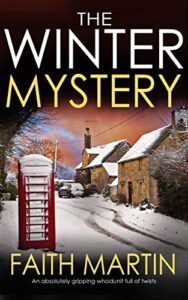 A holiday job cooking for a wealthy farm family in Oxfordshire seemed like a better idea to Jenny Starling than spending Christmas in her Oxford bed-sit with only a gas ring to cook on.
Until she arrives, that is.
After tramping through uncleared snow to Kelton Farm, Jenny finds herself in a shabby farm house, a disorderly kitchen and a family hissing hate at each other.
Although Sid Kelton is technically the owner of the farm, his more forceful — and much hated — younger brother runs the farm and the household.
Things take a nasty turn when Jenny steps out to the hen house for some eggs and returns to find mild-mannered, much loved Sid stabbed to death in the farm kitchen.
Like most cozies and many country house mysteries, the police are unimaginative bumblers and Jenny has to unravel who killed the most loved member of the household while the most hated one lives to bully all.
Although this book was published in 2011, it reads as if it came out of the Golden Age of Detective Fiction in the 1920s and '30s. There's a reference to a cell phone (which, of course, can't get service at the Kelton Farm), but there are characters who believe that a young woman's place is in her father's home until she's married. And while DNA plays a role in this story, the information it's based on comes from a decades old magazine.
Jenny, who is commandingly tall, attractive, an excellent cook and an experienced sleuth, is a winning character.  The other participants in this story make you feel like you're reading deja vu all over again.
This is a light and entertaining read for a holiday escape or plane travel. The descriptions of what Jenny is cooking for the family are mouth-watering. That said, this book doesn't compel me to read more of the series, but that's just me. I'm not a fan of either cozies or country house mysteries.
The Jenny Starling books in order are:
THE BIRTHDAY MYSTERY (2010)
THE WINTER MYSTERY (2011)
THE RIVERBOAT MYSTERY (2012)
THE CASTLE MYSTERY (2012)
THE OXFORD MYSTERY (2014)
THE TEATIME MYSTERY (2015)
THE COUNTRY INN MYSTERY (2019)
About the Author: Faith Martin
Faith Martin is the pen name of English author Jacquie Walton, best known for her series featuring Detective Inspector (DI) Hilary Greene.
Born in Oxford, Marin attended secretarial college and worked as a secretary at Somerville College for six years. At the time, she was supporting her parents, who were injured in a motor vehicle accident. When they received compensation for their injuries, she took leave from her job for a year to write.
She began writing romance novels as Maxine Barry.  Her first novel, STOLEN FIRE, was published in 1993.
She began writing a series of detective novels under the name of Faith Martin. Featuring DI Hilary Greene, who works out of Thames Valley Police headquarters in Kidlington, and lives on a narrowboat.  All the books feature the word "narrow" in the title, beginning with A NARROW ESCAPE, published in 2004 and reprinted with the title MURDER ON THE OXFORD CANAL.
She started another series featuring a traveling cook named Jenny Starling and has published a series of standalone detective novels as Joyce Cato.