by Kate Atkinson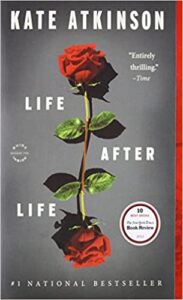 This book is the enchanting and original story of the many lives of Ursula Todd.
Over a span of nearly 60 years, Kate Atkinson takes Ursula through a series of choices and chances, each of which sends her life in dramatically different directions.
The multiple lives can be confusing at first. Her family members, friends and home are consistent even as her lives change dramatically. She herself has no memory of prior lives. As she gets older, she sometimes gets an inexplicable sense of deja vu or sudden fears she can't explain.
In early childhood, when she dies, her life goes back to birth and begins again. In later lives, when she dies, her next life picks up at the last critical turning point in her prior life. Some scenes and conversations are repeated in different lives. The repetition is like a refrain or a chorus as the story moves onward.
The history taking place during Ursula's many lives provides bountiful potential for the alternative paths an individual life could have taken. The loss of a generation of young men in World War I and the 1918 influenza pandemic offers the option for a single woman to have a career instead of marrying.
For Ursula that might mean taking secretarial training in one life that leads her to a boring role in an import-export company or to an exciting career in civil service at the Home Office dealing with the impact of the Blitz or a university education in modern languages that leads her to living in Munich in the early 1930s in yet another life.
In that last version of her life, she marries a handsome Prussian, has a daughter, meets Eva Braun and Adolph Hitler — and dies with her daughter in the ruins of an apartment building bombed by the British and the Americans. In other lives, she dies in the ruins of a London apartment building bombed by the Germans. And in yet another life, she retires from civil service in 1967, a role model for women in her department.
In one of her lives during the Blitz of World War II, she and a friend, Ralph, are in her apartment, black-out curtains drawn, talking.
"Don't you wonder sometimes," Ursula said. "If just one small thing had been changed, in the past, I mean. If Hitler had died at birth, or if someone had kidnapped him as a baby and brought him up in — I don't know, say, a Quaker household — surely things would be different."
"But nobody knows what's going to happen," Ralph points out. And sometimes things turn out the same way no matter what you do. Could you kill a baby without knowing the future, he asks.
It is a fascinating premise. One character in the book, a psychiatrist quotes Pindar, an ancient Greek lyric poet, to her: "Become such as you are, having learned what that is." But another equally apt quote from Pindar is "do not seek eternal life, but exhaust the realm of the possible."
Atkinson, with a masterful ability to balance the expanse of history with the memorable, meaningful moments of an individual life, has done just that.
The Author: Kate Atkinson, MBE (1951 – )
Born in York, the daughter of a shopkeeper, Kate Atkinson's first novel, Behind the Scenes at the Museum, won the 1995 Whitbread Book of the Year and became a Sunday Times bestseller. she has since published an additional nine novels, a play and a collection of short stories.
Life After Life won the 2013 Costa novel award.  That book was shortlisted for the 2014 Walter Scott prize and the 2014 South Bank Sky Arts Award. In 2015, her novel A God in Ruins, won the 2015 Costa Book Award in the novel category.
She was appointed a Member of the Order of the British Empire in the 2011 Birthday Honours for services to literature.
Four of her novels, beginning with Case Histories, feature private investigator and former police inspector Jackson Brodie. These books have been adapted by other writers for a BBC series titled "Case Histories, starring Jason Isaacs as Brodie.
She studied English literature at the University of Dundee, earning a master's degree in 1974.  She studied for a doctorate in American literature but failed to pass her oral examination. After leaving the university, she had a variety of jobs from home help to being a legal secretary and a teacher.
She has been married twice and has two daughters, one from each marriage.  She currently lives in Edinburgh.