by Kate Milford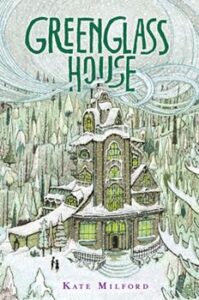 Call the family together, young and old. Open this book and take turns reading to each other out loud.  It's the perfect book for the season.
This delightful story involves a centuries old house — "a huge, ramshackle manor house that looked as if it had been cobbled together from discarded pieces of a dozen mismatched mansions collected from a dozen different cities" — now being run as an inn by Ben and Nora Pine and their adopted Chinese son, Milo.
Many (but not all) of their guests are smugglers. The inn sits on the side of a hill overlooking a string of harbors along the river Skidwrack.  It can be reached by a cable railway, a steep and winding staircase, a road or a secret, underground railway.
On the particular holiday in question, Milo is finishing his homework and looking forward to a quiet Christmas with his parents alone in the inn. Suddenly, the inn starts to fill up with unexpected guests: Black-clad de Cary Vinge; blue-haired Georgiana Moselle; bickering Dr. Wilbur Gowervine and Mrs. Eglantine Herewand; and the ever-moving, red-headed Clemence O. Candler, who took the stairs to the inn.
Milo and his new friend Meddy set out to discover the secrets that have brought these diverse people to Greenglass House — and who's behind a rash of thefts from guests' rooms.  In the process, Greenglass House hosts a sweet romance, an orphan's reunion with heirlooms from his birth family, the finding of a renown glassworker's cartoon for a commissioned public stained glass window and the unveiling of a famous smuggler's past.
Author Kate Milford won an Edgar Award for Best Juvenile Mystery for this book. The characters are eccentric and engaging. Greenglass House itself inspires a reader's imagination and is a wonderfully atmospheric setting for this story. I would book a stay myself in a heart beat if it were possible.
Milford wrote two prequels and a sequel to this book:
The Left-Handed Fate (2017). Lucy Bluecrowne, daughter of the first owner of Greenglass House, and her friend Maxwell Ault are on a mission to find three pieces of an arcane engine that reportedly can stop the war between their home country of England and Napoleon Bonaparte's France. They nearly have everything when their ship, Left-Handed Fate, is taken by the Americans.
Ghosts of Greenglass House (2017). A year after the original Greenglass House story, Milo Pine and friends both old and new are joined in searching for a mysterious map and a famous smuggler's lost haul.
Bluecrowne: A Greenglass House Story (2018) takes readers  back to the beginnings of Greenglass House and the adventures of Lucy Bluecrowne, who has traded her home on her father's war ship for life in a house with her half brother and her stepmother.
The Author: Kate Milford
Kate Milford was inspired to begin writing
Greenglass House
in the summer of 2011 by a prompt (stained glass) offered her by a member of a writers group. The year before she and her husband, Nathan, had decided to adopt a child from China. The issues that adopted children face was strongly in her mind as she wrote.
Kate and her husband had a child of their own, Griffin, in 2013 before the adoption came through.
Originally from Annapolis, MD, Kate Milford currently lives in Brooklyn with her family. In addition to the Greenglass House books, she wrote The Boneshaker (2011), The Kairos Mechanism (2012) and The Broken Lands (2015).