By Kelly J. Ford; reviewed by Jeannette Hartman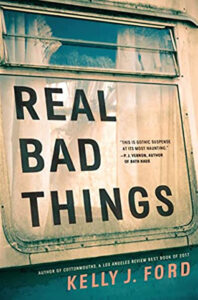 The real bad thing that made Jane Mooney flee Maud, Arkansas, was her own confession of killing her foul-tempered, alcoholic stepfather, Warren Ingram, 25 years ago.
The only thing that kept her out of jail was no body was found.
But now one has surfaced in a lock on the river. Jane has been laid off her job as a graphic designer and dumped by a lover. When her bitter, angry, alcoholic mother, Diane Ingram, orders her back home to face the music, Jane decides to face the inevitable.
When she confessed years ago, she had done so to protect her younger brother from police questioning. Despite the fact he's not returning her calls or texts, she's ready to protect him again.
The discovery of the body is real bad news for City Council member Georgia Lee Lane. She's running for reelection. Stirring up an old controversy isn't going to help her precarious campaign.
Back in high school 20 years ago, Georgia and Jane had been having a love affair. When Warren disappeared and the investigation revealed the relationship, Georgia's fundamentalist parents were so scandalized they locked Georgia in her room for a month, telling everyone she had mono. They quietly forked over thousands of dollars to Diane Ingram to keep their daughter's name out of the limelight. She hasn't seen or talked to Jane since the night Warren died.
When Det. Benjamin Hampton finally catches up with Jane, she expects to immediately be arrested and thrown in jail. But Det. Hampton tells her, "I'm having a hard time figuring out why you'd confess to a murder during a routine questioning at your home when the cops didn't even have a case. It's almost like you were making sure someone else didn't say it first."
For Hampton, a handsome black man newly hired into the Maud Police Department, it's a real bad thing that the newest body found in the lock isn't the first, nor is Warren the only local man to go missing. His fellow police officers shrug; it's what happens when your town is on a river.
There's a lot of ugly in this story: abusive, alcoholic, neglectful parents and bigotry. But there's also a lot of beauty, too: love, protectiveness, a willingness to sacrifice one's self for another. And there's absurdity. Author Kelly J. Ford keeps a perfect balance of crime and comedy in this funny, heart-warming mystery.
The Author: Kelly J. Ford
An Arkansas native, Kelly J. Ford writes crime fiction set in the Ozarks and the Arkansas River Valley. Her first book was COTTONMOUTHS, named one of the Los Angeles Review's Best Books of 2017.
She is an instructor for GrubStreet Writing Center and a graduate of its Novel Incubator program. Her fiction has appeared in Black Heart Magazine, Fried Chicken and Coffee, and Knee-jerk Magazine.
Originally from Fort Smith, Arkansas, she now lives in Boston with her wife and cat.
#kellyjford #realbadthings #bookreviewsbyjeannette