By Sarah Pearse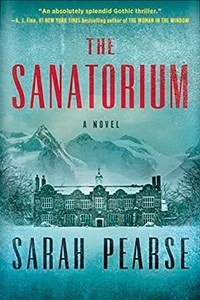 Spaces and places can be as potent as characters in some mysteries.
Take Le Sommet, a luxury hotel on a mountain plateau above Crans-Montana, high in the Swiss Alps. A world-renowned tuberculosis sanatorium in the 19th century, the building has been renovated into a modern hotel with minimalist decor innovatively using local wood, slate and stone with soaring windows opening on to mountain views.
But Le Sommet is the last place Elin Warner wants to be. She and her boyfriend Will Riley are there to celebrate the engagement of Elin's brother Isaac to Laure Strehl, once Elin's best friend in childhood, and now an assistant manager at Le Sommet.
Elin arrives with plenty of baggage, including grief at her mother's death, anger that Isaac wasn't there for her; recurring nightmares about her younger brother Sam's death, and post-traumatic stress disorder from a nearly fatal encounter with a killer. Will is pushing her to move in with him. Her boss wants to know when — or if — she's returning to her job as a detective sergeant after a long leave.
On the first night, neither Isaac nor Laure show up for dinner as planned. The next morning Isaac tells Elin that Laure is missing.
Soon forecasts of threatening weather force guests at the hotel to evacuate. Isaac refuses to leave without Laure. An avalanche covers the road, making it impossible for anyone to leave or reach the hotel.
Then, one by one, dead bodies are discovered — all bound, missing fingers and with a copper bracelet nearby. Elin is the closest person to law enforcement available — and she doesn't have legal standing in Switzerland.
This is a classic "locked room" murder mystery. With no way in or out, Elin, Will, Isaac and the remaining staff and guests are locked in with a murder among them.
Author Sarah Pearse has created a mystery rooted in ancient wrongs now being avenged by victims willing to risk it all to tell their stories and punish the perpetrators. There's a lot of excesses here, but Pearse did an excellent job of building the world of Le Sommet and its shadow in history, the Sanatorium du Plumachit.
This is lovely escapist fiction that gets chaotic toward the end as Pearse piles on a previously unmentioned back story that weaves together the loose ends.
About the Author: Sarah Pearse
In her early twenties, Sarah Pearse moved to Switzerland and spent her spare time exploring the mountains and the town of Crans Montana, which inspired her novel.
Always attracted to dark, creepy abandoned places, Sarah was inspired to write her debut novel after reading an article in a Swiss magazine about the history of sanatoriums in the area.
She studied English and creative writing at the University of Warwick and worked in public relations for a variety of household brands.
She currently lives by the sea in South Devon with her husband and two daughters.