by Karen Baugh Menuhin
After serving four years as a pilot in the Great War, what Maj. Heathcliff Lennox does not need is a dead body on his doorstep.
But shortly before Christmas 1920, that's exactly what he has. A large man with no visible cause of death. When Maj. Lennox searches for identification, all he finds is a piece of paper with neat copperplate lettering: Countess Sophia Androvich Zerevki Polyakov.
Now that is a name he recognizes — and not with pleasure.
Matters definitely turn to the worse when Lennox, arriving at his wealthy uncle's house, Melrose Court, learns that Countess Sophia is engaged to marry his uncle. By Christmas Eve, she's dead in a drawing room. Lennox, first on the scene, becomes the prime suspect, especially as the murder weapon was his pocket pistol.
This mystery is as cosy as a holiday house party. It's filled with eccentric characters like Lennox and his double cousin Edgar, both of whom were left impoverished by once-wealthy spendthrift parents; stoic and loyal butlers; the unscrupulous Peregrine Kingsley, who has been mismanaging Lennox's uncle estate for decades; his greedy lawyer son; and Lennox's cocker spaniel, Mr. Fogg, who refuses to hunt, guard his property or go for walks if the weather is too inclement.
This book feels like it came straight from the Golden Age of British detective fiction.  It's all about the puzzle of who did it and how. Author Karen Baugh Menuhin has used a light, entertaining touch that never slides into the silly or the trivial.
Set in the 1920s, this mystery series will appeal to anyone who enjoys historical fiction. Lennox has great taste in British cars. The new fangled flashlight Edgar gives him proves helpful in his efforts to clear his name and find the real killer.
Other books in the series are:
THE BLACK CAT MURDERS (April 2019)
THE CURSE OF BRAEBURN CASTLE (August 2019)
DEATH IN DAMASCUS (March 2020)
THE MONKS HOOD MURDERS (August 2020)
About the Author: Karen Baugh Menuhin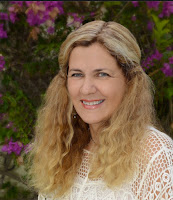 Karen Baugh Menuhin decided to start writing at the age of 60. Attracted to the 1920s, cozy crime, Downton Abbey and traditional detectives, she began there and "suddenly the stories came pouring out along with the characters. Eccentric uncles, stalwart butlers, idiosyncratic servants, machinating countesses, Mr. Fogg the dog and the hapless Major Healthcliff Lennox at the center of the if all."
She grew up in an itinerant military family. Her husband, Krov Menuhin, is the oldest son of violist Yehudi Menuhin as well as being a veteran of the U. S. Special services and a documentary filmmaker.
She has two sons, Jonathan and Sam Baugh, and five grandchildren.