By Jax Miller
Jax Miller's telling of the murders of Danny and Kathy Freeman, the abduction of their daughter, Ashley, and her best friend Lauria Bible and the torching of the Freemans' trailer is alternately lyrical and horrifying.
The Dec. 30, 1999, events
happened the day after Ashley's 16th birthday, and a little more than a week before the first anniversary of the police shooting of the Freemans' son Shane, 17.
It would take 18 years of bumbling police work; ignored clues; unfollowed leads; a serial killer's confession later recanted; and hints from terrified witnesses before a suspect, Ronnie Busick, was arrested and charged with the crimes. Two other suspects, Phil Welch II and David Pennington, died in 2007 and 2015 respectively.
On July 15, 2020, Busick pled guilty to one count of accessory to murder in the first degree. He has pledged to help police locate the young women's bodies, although he repeatedly claims memory loss. It seems likely that the bodies were left in one of the many mine shafts that pock the landscape of northeastern Oklahoma, southeastern Kansas and southwestern Missouri.
This is outlaw country where the infamous Bonnie and Clyde once roamed as did Charles Arthur "Pretty Boy" Floyd and Jesse James. The biggest outlaws in the area today are the meth dealers. Welch, OK, where the murders and abductions occurred, is 12 miles from the Kansas border and less than 30 miles to the Missouri border, making it easy to hop from one law enforcement jurisdiction to another.
Crystal meth started making inroads in the area in the 1990s. As Ottawa County Sheriff Jeremy Floyd described it to Miller, "Meth came in like a tidal wave. Meth was the biggest monster to this area and still is."
Towns like
Picher,
once a booming mining town and now one of the most toxic places in the country from the remains of mining operations, offer isolated and abandoned buildings to cook and use meth. Tom Pryor, a private investigator hired by the Bible family to investigate what the police weren't, described Picher as "Oklahoma's Death Valley . .. there's no telling how many bodies are down there. All those mines and pits."
Miller carefully researches possible explanations for what happened to the Freemans and Lauria and why. The surviving members of the Freeman family point the finger at law enforcement, suggesting they wanted to stop a potential wrongful death law suit that the Freemans could have filed a for Shane's killing.
Others suggest the killings, abductions and burning of the Freemans' trailer were drug-related. However, there is little to suggest that Danny Freeman was involved in drugs beyond growing marijuana for his own consumption. Welch was a major meth maker and dealer who terrified everyone who knew him. Busick and Pennington were Welch's loyal followers.
Miller's many trips to Oklahoma at different times of the year give her writing a "you are there" vividness: the grasses flowing in the wind, snowflakes dancing in the neon night of Route 66, the lonely, isolated roads that crisscross the border between Oklahoma and Kansas.
She captures Lauria's mother, Lorene Bible, in all of her heart-breaking stoicism as she pushes the investigation and keeps the unsolved case going.
Ultimately, this is a haunting story. Unlike the late Michelle McNamara's
I'LL BE GONE IN THE DARK
, where the now elderly killer is conclusively found and given a life sentence, two of the three killers and abductors in this case died before being charged.
For Lorene Bible, who always said the case was about bringing her daughter home, there will be no closure until Lauria's and Ashley's bodies are found and she, at last, has a place to mourn her daughter.
If you like true crime, you might also be interested in these posts:
LITTLE DEATHS
by Emma Flint and
THE QUAKER
by Liam McIlvanney are novels that are based on real crimes.
THE SONG IS YOU
by Megan Abbott takes a true, and still unsolved crime in Hollywood, and goes through all the speculations about actress Jean Spangler's 1949 disappearance as if they had happened.
About the Author: Jax Miller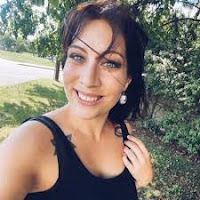 Jax Miller, a recovering addict, was hitchhiking across America in her twenties when she wrote her first novel, FREEDOM'S CHILD. The book won the 2016 GrandPrix des Lectrices de Elle and several CWADagger nominations.
She has described writing nonfiction as being "about selflessness and serving something that's greater than yourself. That was something I didn't realize until after I was in it."
In 2019, she became the creator, executive producer and host on the true-crime documentary series, "Hell in the Heartland" on CNN's HLN network.
Jax Miller
 grew up in New York and lived in Ireland while she was writing HELL IN THE HEARTLAND.