by Barbara O'Neal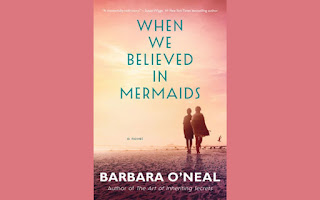 Kit Bianci knows tragedy.
What she hasn't seen as an emergency room doctor, she's experienced personally. But nothing prepared her to catch a glimpse of the older sister she believed to be dead in a newscast about nightclub fire in Auckland, New Zealand.
When her mother, Suzanne, reports that she also saw the newscast and believes it to be her daughter Josie, Kit sets out to find her lost sister.
As she falls in love with Auckland — and with Javier, the handsome Spanish musician she meets on her first day in Auckland — she revisits memories of her childhood on the California coast near Santa Cruz. Her Italian father owned a restaurant and the family lived in the house below.  Her volatile, alcoholic parents were more enraptured with each other than with their two daughters.
But despite the neglect, later relieved by the arrival of Dylan, an abused runaway who worked at the restaurant and was a surrogate parent, Kit and Josie had a magical childhood camping out on the beach, pretending to be mermaids and pirates, learning to surf and living a wild life.
All dreams come to an end someday. First, Dylan drowned while surfing. Then the restaurant and house were destroyed by the 1989 Loma Prieta earthquake. Leo Bianci, Kit's father, died when the house and restaurant collapsed down the hillside. Josie turned increasingly to drugs and sex. Kit, left increasingly on her own, decides to become an emergency room physician, fixing victims of accidents, rage, abuse and misfortune.
Kit and her mother have always believed what they were told, that Josie died in a terrorist bombing attack on a French train.  Now Kit has to face her feelings, especially her rage, at her seemingly carefree and careless sister.
Author Barbara O'Neal's background as a romance writer permeates this book, but so does her award-winning skill. She tells her story by alternating between Kit's memories of the past and Josie's new life, trying to be the responsible, stable, loving woman, wife and mother that her own mother never was.
Her characters are interesting and engaging. The story always stays focused on the positive. Old family rifts are healed with hugs. Old scars disappear with a kiss.
You'll be in a good mood when you put this book down. Complex family problems melt away with good intentions. This is a book I'd put on my list of pool-beach-airplane books this summer.
About the Author: Barbara O'Neal
Barbara O'Neal
specializes in women's and romance fiction. She is the author of more than 40 books written under different names, including Barbara Samuel, Ruth Wind and Lark O'Neal. In addition to this book, her books of HOW TO BAKE A PERFECT LIFE and THE LOST RECIPE FOR HAPPINESS and THE ART OF INHERITING SECRETS.
She has won the RITA award, given by the Romance Writers of America, seven times and been nominated for an additional seven books. She was inducted into the Romance Writers of America Hall of Fame in 2012.
She began her writing career as an author for Harlequin Silhouette. Writing as Ruth Wind, she has published more than 20 contemporary romances winning two RITA awards from the Romance Writers of America. Writing as Barbara Samuel, she has written seven historical romances, winning a third RITA in 1998 for her book, HEART OF A KNIGHT.
She lives in Colorado Springs with a British endurance athlete.