by Alex Michaelides
Six years ago, painter Alicia Berenson was notorious for shooting her bound husband five times in the face.
Police found her in a blood-splattered white dress, immobile, the gun on the floor at her feet. She had tried to slash her own wrists.
She never says another word. Within days of her husband Gabriel's murder, she completes a painting, a self-portrait titled "Alcestis." The name is that of the heroine of a Greek tragedy by Euripedes in which a wife sacrifices her life for that of her husband.
At the opening of this novel, the mute Alicia is incarcerated in a psychiatric hospital, so heavily drugged she is almost invisible among the patients.
Psychotherapist Theo Faber, 42, knows he can help her.  He quits a job at one psychiatric hospital to take a job at the hospital where Alicia is being treated. He feels he has things in common with Alicia — a difficult childhood with unsupportive parents and a wife who cheated on him — that will enable him to connect with her and get her to talk.
Alicia's side of the story is told through her diary, which she gives to Theo at one point. It stops before the day of the murder.
This is a story that sneaks up on you. It's impossible to know who to trust. Even Alicia, who is unquestionably guilty of murder, is someone you can have sympathy for to the end. The discovery of how she has been made a victim as much as Gabriel or Euripedes' heroine Alcestis is a stunner.
This story of trust betrayed will haunt you for weeks after you finish the book.
About the Author: Alex Michaelides (1977 – )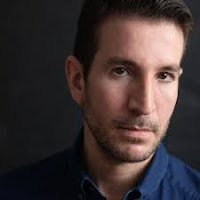 Alex Michaelides is both a screenwriter and an author.  THE SILENT PATIENT is his first novel, rising to the top of the New York Times Bestseller list for Hardcover Fiction in its first week. It also won the Goodreads Choice Award for Best Mystery & Thriller of 2019.
He also wrote the films "The Devil You Know"(2013), starring Lena Olin, Rosmand Pike and Jeffier Lawrence, and co-wrote "The Con is On" (2018), staring Uma Thurman, Tim Roth, Parker Posey and Sofia Vergara.
He was born in Cyprus to a Greek father and English mother. He  has a master's degree in English literature from Cambridge University and a master of fine arts degree in screenwriting from the American Film Institute in Los Angeles.
'