By Lisa Lutz
Investigation comes as naturally to the Spellman family as flight to birds or swimming to fish.
Parents Albert and Olivia Spellman actually met on a stakeout. He, a detective, was doing surveillance for an insurance case; she was checking out her older sister's two-timing fiancé. (The sister's romance died, but Olivia had a lovely wedding.)
Eventually, Albert's brother Ray, a former police detective, joins the firm.
The Spellman children, David, 30; Isabel (Izzy), 28, and Rae, 14, all learned the tips and tricks of following people, sorting through garbage, sniffing out information, thinking on their feet and cracking open secrets. Part of their training involved tracing Uncle Ray when he went missing during alcoholic poker benders.
David escaped the family business by becoming a lawyer. Izzy became an employee and lives above the agency's offices in the family home on the outskirts of Nob Hill. Rae uses her skills to get the goods on her relatives so that she can blackmail them for additional spending money.
Olivia Spellman is not above hiring Rae to follow Izzy in search of information about her latest beau.  And Izzy is not above following Rae along the streets of San Francisco when she breaks curfew late at night and might get herself in trouble.
It should be clear by now that most of the cases covered in this book involve Spellmans investigating Spellmans. Izzy decides that she's had it and she's going to resign from the family firm and move out of the family residence and begin a new life on her own.
There's just one catch.  Her parents and employers will only give her a good recommendation if she solves one last case from the Spellman cold files. Unfortunately, this case is not only colder than an Arctic iceberg, few people involved in the case want to see it solved.
Meanwhile, Rae is beside herself that the older sister she adores might move out.
Author Lisa Lutz manages to make this zany, dysfunctional family witty, funny and entertaining. This isn't a deep book, but it's enjoyable.
If you like it, there's more to read:
CURSE OF THE SPELLMANS: DOCUMENT #2

 (2008), which was nominated for a 2009 Edgar Award for best mystery novel by the Mystery Writers of America.

REVENGE OF THE SPELLMANS: DOCUMENT #3

 (2009).

THE SPELLMANS STRIKE AGAIN: DOCUMENT #4

 (2010).

TRAIL OF THE SPELLMANS: DOCUMENT #5

 (2012).

SPELLMAN SIX: THE NEXT GENERATION

 (2013).
In 2008, 
THE SPELLMAN FILES
 was nominated for three awards for best first novel, the Anthony Award, the Macavity Award and the Barry Award. It was given an 
Alex Award
 and nominated for a 
Dilys Award
.
About the Author: Lisa Lutz (1970 – )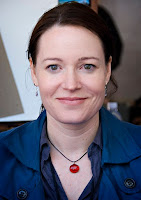 Author Lisa Lutz is noted for her contributions to a new tradition in crime fiction, the complex, brilliant, capable and cool women investigators and protagonists.
In an interview
with Olivia Rutigliano, editorial fellow for the CrimeReads.com, Lutz said, "I like my characters to be difficult, amusing (in varying degrees), slightly insane (also to varying degrees). Write what you know, they say."
Her work is also known for its cinematic feel. She spent most of the 1990s working at various low-paying, odd jobs (including working for a private investigation firm) while writing and rewriting a screenplay, "Plan B," a mob comedy.  The film was made in 2000. Variety Magazine described it as "torturously unfunny." She produced several other screenplays but none were picked up.
The Spellman Files, her last effort at writing a screenplay, has made an ironic full circle. After being turned into a novel, the book has been optioned by Paramount Pictures, although it has yet to be made.
She attended the University of California (UC), Santa Cruz; UC Irvine; the University of Leeds in Great Britain; and San Francisco State University but has never earned a bachelor's degree.
In addition to the Spellman series, Lutz wrote Isabel Spellman's Guide to Etiquette: What is Wrong with You People? (2013); How to Negotiate Everything, a children's book; The Swallows, How to Start a Fire (2015); The Passenger (2016), a thriller; and Heads You Lose (with David Hayward).
A native of California, she lives in the Hudson Valley in New York.