These true crime books feature two shocking and unrelated murder cases in Texas.
BLOOD AND MONEY tells of the aftermath of the death of Houston socialite Joan Robinson Hill, a tale of power, vengeance and legal weaseling that will leave your eyes wide and your head spinning.
WHO KILLED THESE GIRLS? is the tragic story of four girls, aged 13 to 17, who were stripped, shot and then set on fire in the back room of a popular frozen yogurt store in Austin. That crime remains unsolved today, although two men were tried, sent to prison and then had their convictions overturned due to police mishandling of the investigation.
Blood and Money: The Classic True Story of Murder, Passion and Power
by Thomas Thompson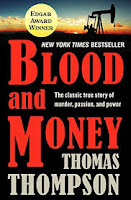 Only two things can be agreed on this series of interrelated cases: 1) beautiful, wealthy socialite Joan Robinson Hill died on March 19, 1969, and 2) a jury agreed that ex-madam Lila Paulus arranged to hire someone for an uncharged third party to kill Joan's widower, plastic surgeon John Hill, three years later.
Looming large in the background of this story is Joan Hill's father, self-made oil man Ash Robinson. Ash idolized his adopted daughter to the point of obsession. He played a role in the failure of her first two marriages. The Hills lived with Ash Robinson and his wife for six years after their marriage.
After her death, Ash pummeled the District Attorney's office to go after Dr. Hill for the murder of Joan Robinson Hill. He was so forceful and so powerful that he even got the county coroner to show up at Joan's funeral in addition to reviewing the flawed autopsy report in an effort to get Dr. Hill prosecuted.
The results of blood tests and two autopsies failed to produce evidence that Joan had been murdered; neither did they produce a cause of death.
Dr. Hill was not a man to win sympathy or support.  He was aloof, cold and arrogant to many who met him. He was having an affair at the time of his wife's death, and married his mistress in an unseemly short time. The second Mrs. Hill made the good doctor's life a living hell. It didn't take long for him decided he had to get a divorce. His attorneys strongly advised against the divorce because it would free his former wife to testify against him. And, the ink was hardly dry on the divorce decree before she was ringing Ash Robinson's doorbell and stepping in for a long chat.
Attorneys in the District Attorney's office, tired of Ash's incessant goading, eventually arrived at charging Dr. Hill with withholding medical attention, making him the first person in the State of Texas to be indicted on a charge of murder by omission.
This is a story that has more twists, turns and breath-taking moments than the roller coaster at Six Flags Over Texas. Published in 1976, it won an Edgar Award from the Mystery Writers of America and the Texas Institute of Letters prize for best nonfiction book.
Author Thomas Thompson, a native of Fort Worth and a graduate of the University of Texas, keeps a steady hand on this complex story. After a journalistic career with the Houston Press and Life magazine (he was the first reporter to find Lee Harvey Oswald's home and wife), Thompson turned to writing books in 1972.  He is considered one of the creators of the "nonfiction novel," a technique he used in his first two books:  HEARTS (1971) about the rivalry between Houston cardiovascular surgeons Michael DeBakey and Denton Cooley, and RICHIE (1973), an account of a Long Island father who killed his drug-addicted son.
Who Killed These Girls?
by Beverly Lowry
The Dec. 6, 1991, murders of four young women at a popular frozen yogurt shop forever changed the city of Austin, TX.
It left three families bereaved; tarnished the Austin police department; and cost two men a decade of their lives.
The murders of Amy Ayers, 13; Eliza Thomas, 17; and sisters Jennifer Harbison, 17, and Sarah, 15, remain unsolved today.
As author Beverly Lowry tells it, this was a perfect storm of a crime. A fire broke out in the room where the girls were murdered, which attracted the attention of a neighboring shop owner. Between the fire and efforts to quell it, the crime scene was chaos. The Austin Police Department (APD) had never faced such a major crime. Not only were the crime scene and evidence mismanaged, the investigation was understaffed, lacked resources and was hindered by internal ethical and management issues.
Years after the crime, the APD made another push to solve the crime. Using questionable techniques to interrogate Michael James Scott, police officers were able to get a false confession that they then used to pressure Robert Springsteen, Jr., into another false confession.
Both men were ultimately convicted of the murder of Amy Ayers, the youngest victim. In 2006, the Texas Court of Criminal Appeals overturned Robert Springsteen's conviction on the basis of an unfair trial. The U.S. Supreme Court refused to reinstate the conviction in February 2007.
Lowry tells the poignant story of the brutal deaths of four talented, lively, joyful girls at the threshold of adulthood. The bulk of her book, however, deals with the blunders of a small town police department facing its first major crime.
As Lowry exhaustively shows, once the investigators thought they had their men, they stopped letting the evidence tell the story and worked to manipulate their prime suspects and tweak the evidence to prove their guilt.
As shocking as the murders and the police manipulation of facts and suspects were, reading this book is ultimately wearying. You will be stunned at the latitude police have to deceive and coerce witnesses and suspects. Scott and Springsteen, unsophisticated and poorly educated, were especially vulnerable to their tactics.
Lowry is a good writer and thorough researcher. The picture she presents of police tactics is concerning.  If true crime is your gig, this is worth reading.