by Carol Lea Benjamin
The heroes of this mystery series are Rachel Alexander, 38, and Dashiell (Dash).
As Rachel describes it, "Dash, my partner, is the real teeth in the operation. He's a pit bull."
They are the perfect combo for the job Dennis Keaton needs handling: Keaton's friend, artist Clifford Cole, has been murdered on the Christopher Street pier and his prize show dog, Magritte, a basenji, is missing.
Keaton fears the police will treat the murder as a gay hate crime and put it on a back burner.
Alex and Dash have plenty of challenges: the murder is two weeks old; it happened in the early hours of the morning on a lonely pier. The person who found the body was a derelict named Billy Pittsburgh, who has since vanished. Cole was getting ready for his first gallery show; his murder has given the show an extra push. His family is uncooperative. And Morgan Gilmore, Magritte's underhanded trainer, is murdered in the show ring while presenting Magritte in competition.
Rachel is a great character. Her mother and sister want her to be the nice Jewish girl she was born to be. They are shocked at Rachel's career choices, first as a dog trainer and then as a private investigator.
"I just have always been more interested in what's in the hamper than what's neatly folded in the dresser drawer. It's not that I don't ask myself, particularly when Dash and I are out on an especially seedy stakeout, what's a nice Jewish girl like you doing in a place like this? but I tend to think it wouldn't be all that different had I gone to medical school. Only then I'd be asking it while delicately sticking a gloved finger up some poor guy's ass."
The author's love and knowledge of dogs shines through in the relationship between Rachel and Dash. Dash contributes protection and excellent hearing and sniffing abilities that help Rachel find the missing Magritte. Dash earns his share of the partnership's profits. This is definitely a pair you'll want to follow, especially if you love dogs.
The Rachel Alexander and Dash series (in order):
THE DOG WHO KNEW TOO MUCH (1997)
A HELL OF A DOG (1998)
LADY VANISHES (1999)
THE WRONG DOG (2000)
THE LONG GOOD BOY (2001)
FALL GUY (2004)
WITHOUT A WORD (2005)
THE HARD WAY (2006)
About the Author: Carol Lea Benjamin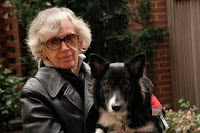 Carol Lea Benjamin can't remember a time in her life when she didn't want to be a writer. As she grew up, she was inspired by detectives Matt Scudder, created by author Lawrence Block, and Harry Bosch, created by author Michael Connelly.  She describes herself as "a sucker for brooding detectives."
She grew up around dogs and became a dog trainer. Since 1979, she has written eight books on dog training and been elected into the International Association of Canine Professionals Hall of Fame.
She fell into detective work, which provided her with experiences that inform her novels. THIS DOG FOR HIRE won a 1997 Shamus Award for Best First P. I. Novel from the Private Eye Writers of America. In addition to the eight novels in her Rachel and Dash series, she has written two stand-alone novels,  THE WICKED STEPDOG (1982) and NOBODY'S BABY NOW (1983).
She lives in Greenwich Village with her husband and three dogs: Dexter, Flash and Peep.