by Beverly Lowry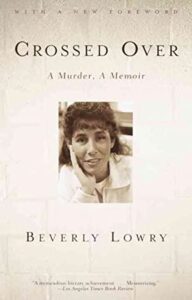 For reasons author Beverly Lowry did not understand then and does not now, she began visiting convicted murderer Karla Faye Tucker at the Mountain View Unit near Gatesville, TX, in March 1989.
She had been through a series of years when "it seemed all I did was choose caskets and throw funerals."
Her troubled son Peter had been killed in a hit-and-run accident just as it seemed he might be choosing a better path; her mother had died; her father had both legs amputated and then died two years later.
What Lowry is certain of is that she would never have gone to visit Tucker if her son hadn't been killed.
What triggered her first visit to Tucker was an article that ran in the Houston Chronicle in the spring of 1986. She had saved it and rediscovered it as she was coming back to life after her son's death.
The article and photograph of the sweet-looking Tucker, then 26, highlighted her paradoxes. The woman in the photo had an attractive, serene, open-looking face, simple prison white clothes and a conviction and death sentence for murdering two people with a pickax.
What might she have been if her early life — taking drugs and having sex by age 12, following her mother into prostitution and hanging out with bikers — been different?
In the Chronicle article, a prosecutor said in 1983 when she was convicted, "Her attitude and the way she looked and everything about her was the personification of evil." In 1986, the same man "was now saying she was a brand-new, caring person, intelligent, helpful, getting her high school diploma, taking college correspondence courses and reading everything in sight."
J.C. Mosier, a homicide detective who had worked on the case, noted that she wasn't the only person he'd sent to death row, but in most cases those people had been "bad people, period." Tucker, on the other hand, he said, "never had a chance from the start.  There was no way for her to go but bad . . .  I don't want to see her die."
She confessed to the crimes and in September 1983, she testified against her boyfriend Danny Garrett, who was also involved in the murders. Her story stayed consistent. She never made excuses. She expressed her sorrow to her victims' families until and in her last words.
In her appeal of her death sentence, Tucker argued that she had been under the influence of drugs at the time and now was a changed person. Among those who asked the State of Texas to stop the execution were Pope John Paul II; Speaker of the U. S. House of Representatives Newt Gingrich; and Ronald Carlson, brother of one of Tucker's victims, Deborah Thornton. The warden of Texas's Huntsville prison testified that she was a model prisoner who had likely been reformed after 14 years on death row.
Then-Texas Governor George W. Bush denied a stay of execution. She was executed by lethal injection on Feb. 3, 1998, the first woman in Texas to be executed since 1863.
Over the course of the book, Lowry looks for reasons why Tucker touched her so deeply.
"I am trying to make connections . . . Not just Karla's life and why she did what she did; my own as well. Why I got so carried away . . . why I have given my heart to a girl who not only has admitted having killed two people, but who then went home and boasted to her rowdy friends of having done it."
Lowry, who has taught creative nonfiction, is brutally graphic at points in the book — and lyrically poignant. She makes no excuses and takes no positions on the death penalty or how to solve the problem of crime. Her love for Tucker and her loss at her execution ring throughout the book.
Lowry's book was made into a
2002 movie
starring Diane Keaton as Lowry and Jennifer Jason Leigh as Karla Faye Tucker.
This book is hauntingly similar to Rachel Kushner's book The Mars Room.
About the Author: Beverly Lowry (1938 – )
Born in Memphis, Beverly Lowry grew up in Greenville, MS, and attended the University of Mississippi and Memphis State University, where she earned her bachelor's degree. Her writing spans true crime to fiction to biography.
She married Glenn Lowry in 1960 and they moved to Manhattan. Five years later, they moved to Houston and she began writing.  In 1976, she started teaching fiction at the University of Houston, and later taught at George Mason University in Fairfax County, VA. She has served as president of the Texas Institute of Letters.
Her first novel, Come Back, Lolly Ray, was published in 1977. It was followed in 1978 by Emma Blue. From 1979 to 1980, she was a National Endowment for the Arts fellow.  In 1981, she won the Texas Institute of Letters' Jesse Jones Award for Daddy's Girl and an award for her short story "So Far from the Road, So Long until Morning."
Her latest book is Who Killed These Girls?: Cold Case: The Yogurt Shop Murders (2016).