by J. Todd Scott
When the remains of a body are found on Indian Bluffs, Matty Bulger's place outside Murfee, Texas, few people think much about it.
Could have been an illegal who made it across the Rio Grande but not far enough into the Promised Land.
Could have been a drug lord's lackey punished.
Nothing to spend a lot of resources on in the eyes of Sheriff Stanford "Judge" Ross.
Ross's 17-year-old son Caleb thinks it might be his mother who disappeared without saying goodbye a little over a year ago. Or maybe it's the body of his friend Amé's brother, Rudolfo Reynosa, a Border Patrol agent who vanished not long after Caleb's mother and hasn't been heard from since.
Deputy Chris Cherry, who was called out to investigate, thinks none of those things. A hometown boy, one-time high school football hero, he's new to the department. It's what he sees that troubles him: the victim's hands were tied behind his back with plastic zip ties used by law enforcement; the body was naked; purposefully buried; and buried in a location you'd have to know about to get to.
"All these secrets and questions within questions, nothing real," that's life in Murfee and with Judge Ross.
Author Todd Scott has written a modern noir western so suspenseful you'll think twice about reading it late into the dark hours — but you won't be able to put it down.
This is the type of story myths are made of: good, ordinary people living their lives, trying to find their way in the world, trying to survive tragedy with great evil in their midst. And when good people begin to see the evil, what can they do to end it?
Scott tells his story in chapters that alternate points of view between Caleb, who sees what others ignore; Cherry, torn between his hometown of Murfee and his desire to escape to a different life; his unhappily transplanted girlfriend, Melissa; a new high school teacher, Anne Hart, trying to recover from her own tragedy; and Chief Deputy Duane Dupree, a protector of secrets who is slowly burning out on drugs. Scott skillfully manages this complex cast and their interrelationships.
He also brings the vastness of west Texas and the liminal nature of the border alive with brilliant writing.
Scott continues Murfee's story in:
HIGH WHITE SUN, which tells of the challenges faced by Chris Cherry, now sheriff, as he reforms and modernizes his department and brings law and order to a town not quite ready to give up the corrupt ways of former Sheriff Stanford Ross.
THIS SIDE OF NIGHT. Power struggles within the Nemesio cartel bring violence to both sides of the Rio Grande. Sheriff Cherry and his deputies find themselves caught in the violence with a discovery of five dead men at the river's edge. El Paso DEA agent Joe Garrison suspects a high-profile drug task force in a neighboring county may be corrupt and can't shake suspicions about the loyalties and motives of some of Cherry's new staff members.
About the Author: J. Todd Scott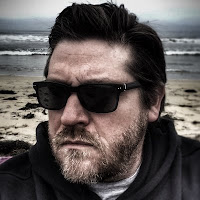 Born in rural Kentucky, J. Todd Scott wanted to be a writer early on. That ambition got set aside when he went to college and law school in Virginia.
He became a federal agent, working at assignments throughout the United States and internationally. The gun and the badge never fully replaced the desire to write, however.
He currently lives in the Southwest, continues to work in law enforcement — and writes.