by Kent Haruf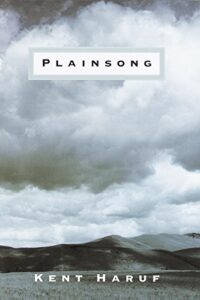 In our WHIZZ-BAM-WOW-SHAZAM world,
Plainsong
whispers. This book tells a plain story in plain prose about a disappearing world.
Holt is a small town in northeastern Colorado near the junction of Nebraska, Kansas and Colorado.
It's a town where nothing — and everything — happens. Teenagers have sex in abandoned farm houses. A girl gets pregnant and is thrown out of her home. Two lonely, aging bachelors dare to do something out of character. An apartment-bound woman makes oatmeal cookies with two young boys whose depressed mother has abandoned them. A high school teacher is pressured to pass a lazy star athlete just to get him graduated and away from the school.
It's a town where everyone knows everyone else's business — or makes up a good story if they don't. It's a place where expectations are low. But it also has moments where characters' generosity is so huge and so instinctual, it makes a reader go "Ahhhh!" with unexpected surprise.
Haruf writes with lean, vivid prose that brings the town and its people into clear focus. This is not a landscape with the drama of mountains or rushing rivers. It's a place where people live close to the land and its animals, both domesticated and wild.
His characters are rich, three-dimensional beings you'd like to introduce yourself to. They may not have achieved much, but they've lived hard enough and long enough to have values.
Note to readers: If you enjoyed Plainsong, you may also enjoy Ordinary Grace by William Ken Krueger. Haruf's final book, published posthumously, was Our Souls at Night, which also takes place in Holt.
The Author: Kent Haruf (1943 – 2014)
According to his obituary in the
New York Times
, Kent Haruf wrote daily at a manual typewriter with a wool cap pulled over his eyes so he could fully immerse himself in his fictional town of Holt, CO.
The world of Holt is a blend of the Colorado communities he grew up in as his family moved with his father's job as a Methodist minister. Plainsong was written mostly during summers while he taught at Southern Illinois University in Carbondale over six years.
He was 56 and proclaimed an "overnight success" when Plainsong was published. That came after he had been rejected by the Iowa Writers' Workshop in his 20s and by publishers in his early career.  He eventually was allowed to join the workshop. His first published novel was The Tie That Binds in 1984, followed in 1990 by Where You Once Belonged. He was 41 when he sold his first literary work, a short story to the magazine Puerto del Sol.
Plainsong was a finalist for the National Book Award and made into a television movie in 2004.  It generated enough income to allow him to retire from teaching. It was followed by Eventide in 2004, which includes some of the same characters. Benediction, also set in Holt, was published in 2013 and was a finalist for the first Folio Prize, given by the Folio Society in Britain. His final book, Our Souls at Night, was published after his death.
After a childhood and youth growing up in small towns in northeastern Colorado, Haruf went to Nebraska Wesleyan University in Lincoln. He served as Peace Corps volunteer in Turkey in the mid-1960s and was a conscientious-objector during the Vietnam War.  He worked in a hospital and an orphanage as part of his alternative service.
He taught high school English in Colorado and Wisconsin before being hired as an assistant professor at his alma mater.