By Allen Eskens
The lives of dying ex-con Carl Iverson and struggling college student Joe Talbert have an unlikely intersection when Talbert shows up at the Hillview Manor nursing home looking for someone to interview for an English class.
Iverson has spent 30 years in one of Minnesota's harshest prisons, serving a life sentence for the rape, murder and burning of 14-year-old Crystal Marie Hagen. When he is diagnosed with pancreatic cancer, he is paroled out to Hillview Manor to die.
Talbert is struggling to stay in college after leaving his self-centered alcoholic mother and autistic brother back home in Austin, Minnesota. He loves his brother and has a lot of guilt about leaving him to the indifferent care of their mother.
Everyone who hears about Joe's plans believes Iverson to be a monster. Mrs. Lorngren, the director at Hillview, and Janet, the receptionist, both hate the fact they have to care for him and hope he dies quickly. Talbert's next door neighbor, Lila Nash, pushes him not to rely just on what Iverson says. She believes he will tell self-serving lies about his innocence. A public defender who worked as a clerk for Iverson's defense attorney describes Iverson as a lying pedophile.
The only person standing up for Iverson is his friend Virgil Gray. They met as soldiers in Vietnam, where Iverson saved Virgil's life. Virgil believes it would have been impossible for the man he knows to have committed the crime. Iverson himself describes his decision to talk to Talbert as making a dying declaration, a statement that in law is generally believed to be true because a dying person has no reason to lie.
Talbert comes to see Iverson as a man who can appreciate the beauty of falling snow without dwelling on the eyesore apartment building it falls on outside the window of his bare room, who counts his remaining life in hours and doesn't waste a minute of it.
As Talbert spends time with Iverson, pours through his trial files and talks to people who testified in the case, he learns that the "facts" can tell very different stories depending on how they are put together. His class assignment becomes a race against time to establish what really happened on the fateful night Crystal Hagen died.
This book is suspenseful to the last page. The characters are well drawn and interesting and the events believable.
About the Author: Allen Eskens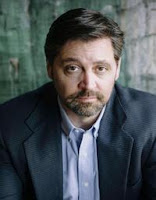 Educated as a journalist and practicing as an attorney, Eskens studied creative writing at Minnesota State University-Mankato, the Loft Literary Center and the Iowa Summer Writer's Festival.
The Life We Bury was his debut novel, and is being developed as a feature film. It earned the Barry Award, The Minnesota Book Award, the Rosebud Award and the Silver Falchion Award. The book was a finalist for the Edgar Award, Thriller Award and Anthony Award.
It has since been followed by The Guise of Another, The Heavens May Fall and The Deep Dark Descending. These books feature Detective Max Rupert from the first book.

Eskens grew up in central Missouri, and now lives in Minnesota with his wife Joely. He recently recently retired from his law practice to write full-time.