by Linda Stratmann
In this, the third Frances Doughty mystery, Frances is asked to trace the missing Henry Palmer by his sister Alice. The case appears to be a straightforward investigation that a plucky, observant and analytical lady detective can resolve without raising Victorian eyebrows.
Things take a twist when Frances learns that the missing man was an orderly at Life House, a waiting mortuary near Kensal Green Cemetery in Kensington. Then she learns his boss, Dr. MacKenzie, collapsed and died the same night Henry went missing.
A waiting mortuary was a Victorian invention to assure that no client could be buried alive. At the time it was believed that some signs of death — like the stopping of the heart or breathing — sometimes reversed themselves bringing an apparently dead person back to life.
A variety of devices were used to help a person survive if they came to in a coffin: bells that could be rung inside a coffin to sound an alert above ground, glass viewing panes in coffins or coffins that could be unlocked by their occupants.
A waiting mortuary took a different approach. They allowed a body to be removed from the family home where the death occurred and placed in a warm, hospital-like setting to be regularly observed by doctors and orderlies both for signs of life and signs of decomposition. The decay was the undeniable sign of death.
At the Life House, an additional step was provided. Decomposing bodies were put in a coffin and then in an above-ground catacomb for additional monitoring for two weeks.  If no signs of life were observed, the coffin was sealed in a lead-lined vault and buried.
Inevitably, the events surrounding Dr. Mackenzie's death intersect with Frances' exploration of Henry's last hours. But where Henry seems to have vanished without a trace, there are more and more signs that all is not right at the Life House.
Before the book ends, three murders have been committed and Frances has instigated three exhumations to located the bodies that have been shuffled around to hide the various crimes committed.
Frances solves her clients' problems with legwork, Sherlock Holmesian rationality and a team of reluctant cops, eager street urchins and reporters. At age 20, she seems a tad precocious, although her earlier life gave her experiences not typical of a Victorian miss.
Although bizarre and macabre, The Case of a Doubtful Death has a historic basis. The Victorians were obsessed with death for many reasons. Lifespans were much shorter than ours and infant mortality high. Most deaths happened at home with the family or associates witnessing them. Following the example of Queen Victoria, who wore black for 40 years mourning the death of her beloved husband Prince Albert, Victorians observed a defined mourning period with specified clothing colors over a period of several years making it clear who in a community was observing a death.
This series has many elements of a cozy — an amateur detective, ineffective law enforcement professionals and a host of two-dimensional characters. The crimes featured are juicier than a typical cozy. The era, the descriptions of London in the 1880s and, of course, the Victorian fascination and fear of death are fascinating.
To date, there are eight Frances Doughty mysteries. This is the third in the series, which also includes:
The Poisonous Seed. In 1880, 19-year-old Frances Doughty is thrust into the role of detective when one of the customers of her father's Bayswater chemist shop dies after taking medicine her father dispensed.
The Daughters of Gentlemen. A lady detective is just the ticket when curious goings-on happen at a respectable private school for well-brought up girls. The case takes an ugly turn with murder and election shenanigans.
An Appetite for Murder. A furore erupts in Bayswater when obese, 49-year-old Thomas Whibley suddenly dies. Diet doctors, vegetarians and the extremist Pure Food Society go to war with each other. Frances is engaged to find out who was responsible for a series of anonymous libels. A former colleague of Whibley's, the ex-con Hubert Sweetman, asks for Frances' help finding his estranged family. Before she even starts, Sweetman is arrested for the murder of his ex-wife.
The Children of Silence. Harriet Antrobus, suffering from ear pain and tinnitus, is anxious to prove that fragments of a corpse found in Paddington basin are the remains of her husband Edwin. Frances finds herself thrown into a case with myriad complications.
Death in Bayswater. As a murderer prowls London in 1881, Frances' Bayswater neighbors are in a panic. When one of her friends falls victim, Frances is drawn into this most unsuitable investigation.
A True and Faithful Brother. It's 1882 when a wealthy philanthropist disappears from a locked and guarded room. Reluctantly involved in the case, Frances finds herself facing the mysteries of her own past.
Murder at the Bayswater Bicycle Club. An assignment to discreetly observe a race meeting of a bicycle club gets Frances involved in a kidnapping, fraud and murder investigation.
Stratmann also writes the Mina Scarletti mysteries, which I reviewed here.
About the Author: Linda Stratmann (1948 -)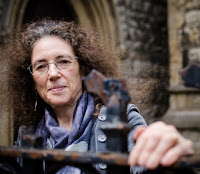 Born into a family of Polish Orthodox Jews, Linda Stratmann has had a long love affair with books and writing. She trained as a chemist dispenser at Boots, was married at 18 and a mother at 20. Recognizing that she wasn't destined to be a housewife, she entered Newcastle University and earned a degree in psychology. She joined the Civil Service and became an Inspector of Taxes until her retirement in 2001..
From the early 1970s, Stratmann was active in science fiction fandom. She moved to London in 1987, got divorced in1992 and remarried in1993. She has practiced aikido since 1993, earning a black belt in 2000. In 2002, she was commissioned to write her first book, Chloroform: The Quest for Oblivion.  Her books span true crime, crime fiction, medical history and biography.