by Sarah Ward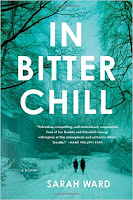 In 1978, the scenic Derbyshire village of Bampton had 15 minutes of infamy when two eight-year-old girls, Sophie Jenkins and Rachel Jones, were abducted on their way to school.
Rachel was found hours later, dazed and wandering near an ancient forest, unable to remember many details of the abduction. Sophie was never seen again.
Decades later, on the anniversary of the kidnapping, Sophie's mother, Yvonne Jenkins, is found dead in a hotel room with an empty packet of tranquilizers, a nearly empty bottle of vodka and a scrapbook of clippings about the crime.
Then, a retired elementary school teacher, Penny Lander, is found strangled in Truscott Woods. She'd been withdrawn and reclusive since the sudden death of her husband earlier in the year. She'd left a half-eaten sandwich on her coffee table when she'd rushed out.
Is Yvonne Jenkins' death the simple suicide of a grieving mother on the anniversary of her daughter's death? Why would a widowed school teacher suddenly leave home and drive to the forest? Is there any connection between them? Is Penny Lander's death connected to the 1978 kidnapping? Why was one kidnapped girl killed and the other not? Can anything relevant be turned up by going back over a cold, decades-old case?
Sarah Ward's story is a tightly knit mystery that will keep you in suspense to the end. The sins of the past run much deeper than Rachel and the investigative team ever imagine.
When Detective Constable Connie Childs tells her boss Detective Inspector Francis Sadler that she feels as if there's a key missing person involved in the kidnapping that they just aren't seeing, she's right. A police officer's rules-of-thumb about where to look first for suspects holds true in this story, it's just that nobody is who they seem to be.
Throughout this mystery, clues are right out in the open but the dots don't connect until the last chapter.
This was such an absorbing mystery I read it almost without stopping. It's leanly told with no wasted scenes or characters. The location and the characters are so robustly developed, you'll want to put Bampton on your travel bucket list.
The book is so good you want to read more, but at the same time you half-hope this doesn't become yet another series of incredible crimes too numerous to be plausible for such a small community.
The books that follows this includes:
A Patient Fury
The Shrouded Path
The Author: Sarah Ward
Sarah Ward has been reviewing crime fiction on her blog, Crimepieces, since September 2011. In addition, she has reviewed for Euro Crime and CrimeSquad and is a judge for the Petrona Award for best Scandinavian translated crime novel of the year.
She lives in rural Derbyshire in England where In Bitter Chill is set. Her second book, A Deadly Thaw, was published in September 2016. While the mystery is unrelated to In Bitter Chill, it features the same investigative team.